US Supreme Court rules police need a warrant to search cell-phone of arrested suspects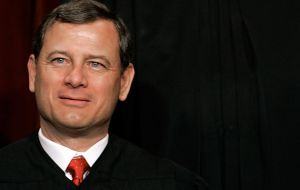 The US Supreme Court ruled that police officers usually need a warrant before they can search the cell-phone of an arrested suspect, a major decision in favor of privacy rights at a time of increasing concern over government encroachment in digital communications.

In a ruling written by Chief Justice John Roberts, the court said there are some emergency situations in which a warrantless search would be permitted. But the unanimous 9-0 ruling goes against law enforcement agencies, including the US Department of Justice, which wanted more latitude to search without having to obtain a warrant.

"We cannot deny that our decision today will have an impact on the ability of law enforcement to combat crime," Roberts wrote, adding that the right to privacy "comes at a cost."

Roberts acknowledged the unique nature of cell-phones in contemporary life, noting that "the proverbial visitor from Mars might conclude they were an important feature of human anatomy."

"The fact that technology now allows an individual to carry such information in his hand does not make the information any less worthy of the protection for which the (country's) Founders fought. Our answer to the question of what police must do before searching a cell-phone seized incident to an arrest is accordingly simple — get a warrant," Roberts wrote.

The ruling could have a major impact in some jurisdictions because law enforcement agencies have increasingly made cell-phones searches a top priority when a suspect is arrested, said Bronson James, a criminal defense attorney in Portland, Oregon.

The implications may be limited by the fact that police can benefit from new technology: it is now possible to obtain a warrant more quickly using mobile devices to send the request.