Griesa orders Argentina/holdouts to resume negotiations and an end to 'misleading information'
Saturday, August 2nd 2014 - 04:08 UTC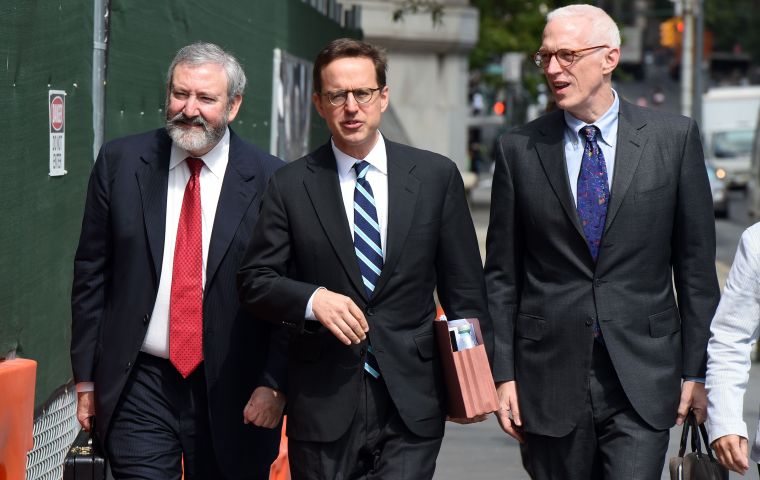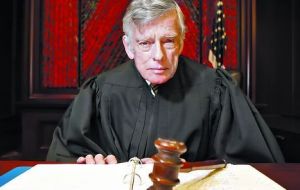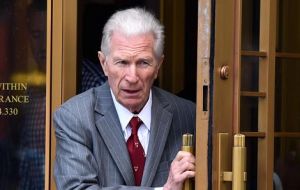 US District Judge Thomas Griesa presiding over Argentina's bitter dispute with two hedge funds left the country stranded in default on Friday, ordering it to hold new negotiations and calling for an end to "mistrust". In a stern tone Griesa slammed the decision by Argentina to defy his order that it pay in full holdout investors and instead opted to default on 29 billion dollars in debt.

At the court hearing in New York, Griesa told lawyers for Cleary Gottlieb, which represents Argentina, to "take steps to stop the misleading information being released by the Republic" regarding the battle between investors and Argentina.

President Cristina Fernandez, Economy minister Axel Kicillof and cabinet chief Jorge Capitanich have repeatedly stated that Argentina has met its debt obligations, which Griesa said was a "half truth."

"The republic has issued public statements that have been highly misleading, and that has to be stopped," he said.

Griesa has ordered Argentina to pay 1.33 billion dollars plus interest to NML Capital, a unit of Elliott Management Corp, and Aurelius Capital Management, the two leading US hedge funds who were not among those who agreed to accept new bonds after Argentina defaulted in 2002.

The government argues that by depositing 539 million for a scheduled June 30 coupon payment at the Central Bank of Argentina in the account of Bank of New York Mellon, the trustee, it has satisfied its obligation to pay its debts.

Griesa has ordered BNY Mellon not to transfer that money to bondholders that exchanged debt in 2005 and 2010.

"Half-truths are not the same as the truth," the Judge said in court.

The hearing was called to "clarify where we go from here," Griesa said, adding "nothing that has happened this week did not extinguish or reduce the obligations of the Republic of Argentina" or removed the necessity of working a settlement".

"The debts weren't extinguished. There's no bankruptcy, no insolvency proceedings," Griesa said. "The debts are still there."

Griesa told both sides to continue working with mediator Daniel Pollack, a lawyer one senior Argentine government minister had dubbed "incompetent" a day earlier.

Argentina's lead lawyer told the judge the Buenos Aires government had no confidence in Pollack after he released a statement following the breakdown of negotiations, saying the case had become "highly politicized."

"The Republic of Argentina believes ... it was harmful and prejudiced to the republic and the impact on the market," lawyer Jonathan Blackman said in an exchange that prompted Griesa to tell the hearing that everyone should "cool down" about ideas of mistrust.

"Let's cool down any idea of mistrust," Griesa said. "What can be trusted is proposals, recommendations. That is what is important."

Before Friday's hearing, Argentina's government had said it expected nothing favorable to come from Griesa. It has previously called the federal judge an "agent" of the New York hedge funds.

Argentine officials have denied the country is in default since the payment in question is currently sitting in a Bank of New York Mellon account, frozen by Griesa's ruling.

"Preventing someone from paying is not a default," President Cristina Fernandez defiantly repeated on national television Thursday.