Relief for Petrobras: Dilma allows increase in gasoline and diesel prices
Saturday, November 8th 2014 - 09:37 UTC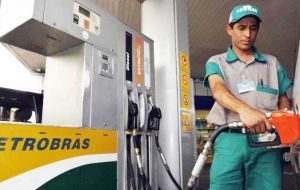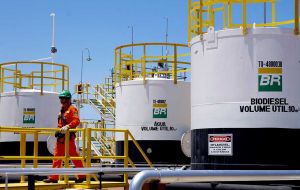 Brazil raised domestic wholesale gasoline and diesel prices for the first time in more than 11 months effective Friday in a move to bolster the finances of the heavily indebted Petrobras oil and gas company after years of refining losses.

The cost of gasoline at the refinery gate rose 3% and diesel 5% midnight (0200 GMT) Friday, Petrobras said in a statement. The increases are before taxes and the figures reflect the average of increases across the country.

Even when expected the increase surprised the market since the company only a few hours before had said there was no news on the issue, and the percentage apparently is not enough to get Petrobras out of the red, but at the same time will boost inflation.

Petrobras' refining division has lost more than 59 billion Reais (24bn dollars) since the end of 2010, in large part because the government has refused to let it raise domestic fuel prices in line with world prices. With its 13 domestic refineries unable to meet Brazil's rising needs, it must buy fuel abroad, selling imported gasoline and diesel at home at a loss.

Refining losses have crippled profits and the company's efforts to pay for its 221 billion five-year investment plan, sending its debt soaring. Petrobras is now the most indebted of the world's major oil companies and its 138bn in debt is the fourth-largest of any industrial company, and of the 28 largest oil companies, it is the least profitable.

The government of President Dilma Rousseff has justified its resistance to fuel-price increases on the grounds that they would spark inflation. Brazil's consumer prices rose 6.75% in October from a year earlier, above the government's 6.5% inflation target ceiling.

The increases are the first since Rio de Janeiro-based Petrobras raised wholesale gasoline 4% and diesel 8% on 29 November, 2013.

Since June 2009, when Petrobras last cut the price of gasoline and diesel fuel, the value of crude oil, the product used to make both fuels, has risen 60% in Brazilian-currency terms. Petrobras has only increased the amount it receives for gasoline by about half that amount.

But with international oil and fuel prices falling, the increase will likely provide some relief for the company's pressured cash position. In effect the world gasoline price slipped below the Brazilian price for the first time in nearly four years on 13 October.