Uruguay wins lead case against Philip Morris over strict anti-tobacco law
Saturday, July 9th 2016 - 07:26 UTC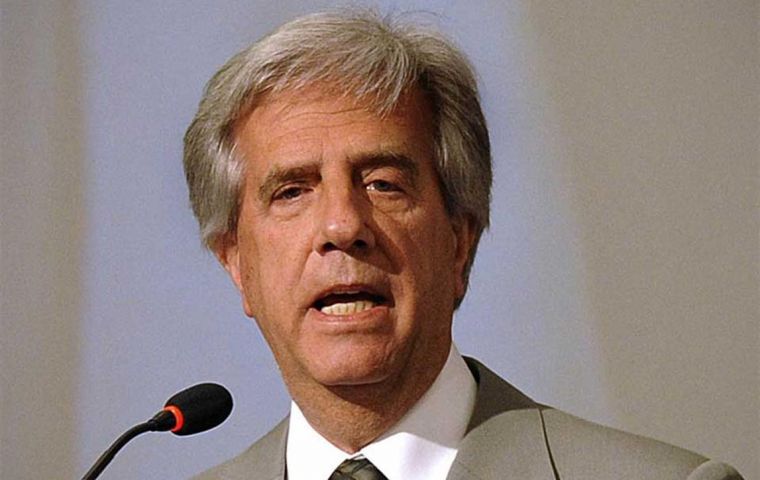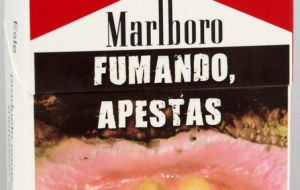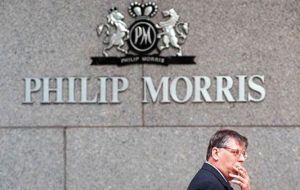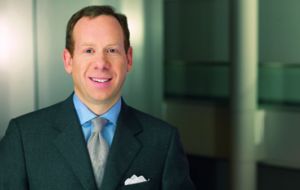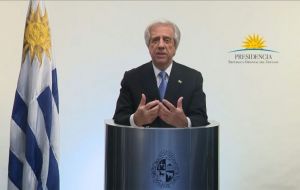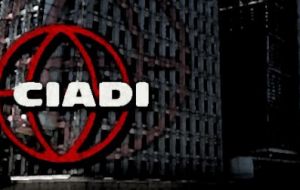 Uruguay won on Friday an arbitration case against US tobacco giant Philip Morris, which sued the state claiming its strict anti-tobacco law harmed the cigarette maker's business, both sides said. Philip Morris argued that Uruguay had violated terms of a bilateral investment treaty with Switzerland, where it has its main headquarters.

"The Uruguayan state has emerged victorious and the tobacco company's claims have been roundly rejected," Uruguayan President Tabare Vasquez said in a televised national address. He was citing a decision by the World Bank's arbitration body, the International Center for Settlement of Investment Disputes, ICSID.

The lawsuit at the World Bank investment disputes center marked the first time a tobacco group had taken on a country in an international court. The world's biggest tobacco company — whose annual revenues of more than US$80bn across 180 countries far exceed Uruguay's GDP of US$50bn, claimed that a 2009 anti-tobacco law damaged its intellectual property rights and hit sales.

Philip Morris, which has lost lawsuits in Norway, Australia and the UK opposed the Uruguayan anti-tobacco law's requirements that graphic health warnings cover 80% of both sides of cigarette packets, and that brands have a single image, thereby prohibiting sub-brands such as Marlboro Red or Marlboro Gold. That forced Philip Morris to withdraw seven of its 12 brands from shops in Uruguay.

Uruguay imposed a ban on smoking in public spaces in 2006, as it raised taxes on tobacco products and forced firms to include large warnings and graphic images including diseased lungs and rotting teeth on cigarette packages. It also banned the use of the words "light" and "mild" from cigarette packs to try to dispel smokers' misguided beliefs that the products are safer.

"The health measures we implemented for controlling tobacco usage and for protecting the health of our people have been expressly recognized as legitimate and also adopted as part of the sovereign power of our republic," President Vazquez said in a televised speech.

Uruguay became the first Latin American country and fifth in the world to ban smoking in public places under Vazquez, an oncologist who was serving a previous term as president (2005-2010) before returning to power last year.

In the lengthy decision published on Friday, the ICSID said it had ruled to dismiss Philip Morris' demand that the regulations be withdrawn, or not applied to the company, or that it be paid US$22 million in damages instead. It ordered the tobacco company to pay Uruguay US$7 million and to cover "all the fees and expenses of the Tribunal and ICSID's administrative fees and expenses."

Phillip Morris said it respected the tribunal's decision.

"We've never questioned Uruguay's authority to protect public health, and this case wasn't about broad issues of tobacco policy," Marc Firestone, Philip Morris International senior vice president and general counsel, said in a statement.

"The arbitration concerned an important, but unusual, set of facts that called for clarification under international law," added Firestone.

The tobacco company said that it would like to meet with Uruguay's government, to explore regulatory frameworks that would enable smokers "in the country to have informed access to reduced-risk alternatives to smoking."

Action on Smoking and Health (ASH), the oldest anti-tobacco organization in the United States, applauded Uruguay for winning the case, but said Phillip Morris "accomplished its primary goal."

Phillip Morris "will no doubt shed some public crocodile tears, but their main goal in launching the suit has been realized, six years and millions of dollars have been spent defending a nondiscriminatory law that was intended purely to protect public health," said Laurent Huber, executive director for ASH.

"This has already resulted in regulatory chill in other countries, preventing tobacco legislation that would have saved lives," Huber said.

The Uruguay verdict adds to Philip Morris's legal losses as it seeks to defend its business from increasingly tough anti-smoking laws in several countries. The European Union's top court ruled in May that new laws in the bloc on plain tobacco packaging and a ban on menthol cigarettes were legal, rejecting a challenge by Philip Morris and other cigarette companies.

Britain and France imposed neutral packaging soon after, with retailers in both countries given months to sell existing branded cigarette stocks. Norway and New Zealand said in May that they would follow suit.

The international move toward plain packaging comes as Philip Morris last year lost a four-year struggle to overturn legislation in Australia requiring cigarettes to be sold only in logo-free packs featuring graphic health warnings.