Rosmit Mantilla released from prison late Thursday evening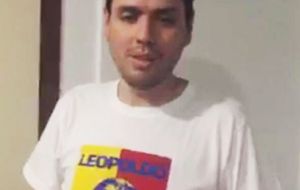 Venezuelan opposition leader Rosmit Mantilla was released from jail late Thursday evening by the government of Nicolás Maduro. Mantilla was finally allowed to undergo surgery on November 13 and is believed to be one of the first political prisoners to be set free in the coming days.

Looking healthy and donning a Leopoldo López T-shirt, Mantilla spoke through the Periscope social media: "Greetings to all Venezuelans," he said. "I've been free for a few minutes now and I'm already working for all of you for the best Venezuela."

"Change is coming and it's coming now," he underlined. "But change with justice and for all of Venezuela."

Mantilla, elected to the National Assembly in 2014, gained notoriety for his actions as a human rights activist particularly for the LGTBI community from within the Voluntad Popular (People's Will) political party led by Leopoldo López.

Mantilla's surprise release would add credibility to rumours that started on Tuesday evening, according to which López could be released within a fortnight. López, sentenced to almost 14 years in prison for his participation in the violent protests in early 2014, has spent just over one thousand days at the Ramo Verde military jailhouse. Lopez's release would follow an agreement between the government and the opposition after two rounds of negotiations, according to journalist Miguel Salazar.

Other realeases were said to be considered by the Maduro regime, but one thing became clear: "They are no longer political prisoners; they are hostages," an angry citizen told the media.