ANCAP company in Argentina seeks bankruptcy reorganization proceedings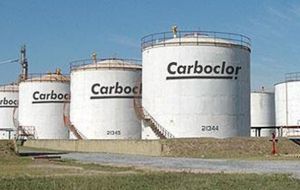 Uruguayan oil company ANCAP announced Wednesday through a press release that one of its companies, Carboclor S.A., based in Argentina, had turned to the courts to start the reorganization proceedings, known in Argentinian law as "Concurso Preventivo," which is very similar to the United States' "Chapter Eleven" bankruptcy mechanism.

The ANCAP Group petrochemicals producing company has lost millions since 2013 and currently has a negative equity after no investor showed up during the entire year of 2016, despite ANCAP's efforts.

"CARBOCLOR S.A. a company of the ANCAP Group dedicated to the petrochemical and logistics movement in the town of Campana, Province of Buenos Aires and listed on the Buenos Aires Stock Exchange, publicly announced today that its Board of Directors resolved to request the Preventive Competition," the statement said.

"The company has posted losses since 2013 and has a negative equity. Despite successive capitalizations and other financing mechanisms provided by its majority shareholder ANCSOL, also of the ANCAP Group, and various management measures, it has not been able to reverse the situation," the statement also pointed out.

"Among the difficulties highlighted is Resolution 37 of the Ministry of Energy and Mining of April 7, 2016 which has resulted in the impossibility of continuing to place in the domestic market the main product of the company, based on its contribution to results, The MethylTertButilEter (MTBE), used for the formulation of gasolines," explains ANCAP.

"In July 2016 ANCSOL had announced the beginning of a search process for interested parties to acquire a stake in CARBOCLOR S.A., a process that did not draw firm offers to this date. In view of these circumstances, the Board of Directors considered that the Reorganization Proceedings are the best way to act in order to reach an agreement with all interested parties in an adequate and equitable way, so as to enable the operational continuity of the company," he adds.

"ANCAP will timely honour the commitments related to the Negotiable Obligations for 95 million Argentinean pesos of which it is guarantor," the statement said.