Brazil top official who praised mass killings in prison uprisings resigns
Monday, January 9th 2017 - 10:46 UTC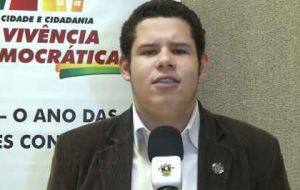 The Brazilian government's national secretary of youth has resigned after celebrating the deaths of inmates killed in prison uprisings. Youth Secretary Bruno Julio resigned Friday.

He had earlier declared that more inmates should be slain and there should be a mass prisoner killing per week. He also said the problem with prison killings is that "there aren't enough of them."

In a note released following the resignation, the former official of the Presidency said that his statements were made to the journalist off the record after the interview ended.

At least 31 inmates were slain Friday in northern Brazil, some with their hearts and intestines ripped out during killings led by the country's largest gang.

The bloodshed came just days after 61 inmates were killed during rioting at two prisons in a neighboring state. It increased fears that violence could spread, including to the streets of major cities, as gangs vie for control inside prisons and in slums.

Meanwhile, more bodies were found inside the prison of Monte Cristo in Roraima during an inspection on this Saturday. But police still don't know if they were also killed in the massacre.

The absence of a criminal and prison policies in line with international human rights standards in Brazil has been repeatedly pointed out by United Nations entities.