Scotland links Brexit negotiations to a second independence referendum
Monday, January 9th 2017 - 11:14 UTC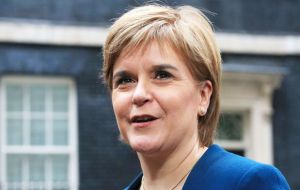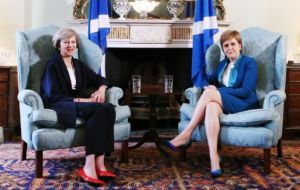 Scotland's First Minister Nicola Sturgeon has warned Prime Minister Theresa May that she is not "bluffing" on the promise of a second independence referendum if Scotland is "driven off a hard Brexit cliff". In an interview with BBC's Andrew Marr she felt the prime minister had "no plan" in terms of her strategy for the UK leaving the EU.
However Ms Sturgeon said she was prepared to compromise and wants Mrs. May to do the same. The UK government has said a special deal for Scotland is unrealistic.
British prime minister said on Sunday morning the government's thinking on Brexit "isn't muddled at all". In an interview on Sky News, PM May said her priority was to get the "best possible deal in terms of our trading relationship with the European Union". Brexit talks with the EU are expected to begin as early as April.
Scottish opposition parties have called for Ms Sturgeon to rule out a second independence referendum. Voters in Scotland backed the UK staying in the EU by 62% to 38%.
Ms Sturgeon has said she wants the UK to retain membership of the European single market, the so-called soft Brexit option. She has also indicated a soft Brexit would see the prospect of Scottish independence "put aside" in the short term.
However, in an interview for the Andrew Marr program, she warned the UK government and Ms May that "they will be making a big mistake if they think I am in any way bluffing" on the prospect of another Scottish independence referendum.
She said that if the UK opts for leaving the single market then she would "give Scotland the opportunity to decide whether it wants to be driven off a hard Brexit cliff by right-wing Tory Brexiteers or whether it wants to take control of its own future".
Asked if she was looking at a referendum "much quicker" than in five or 10 years' time following a hard Brexit she said: "I would think, yes. But let me not get away from this point, I'm putting to Theresa May a compromise solution."
Ms Sturgeon also told the BBC presenter that discussions with the UK government over the Brexit options had left her "frustrated". She said: "I don't feel as if I know any more about her (Theresa May's) negotiating objectives than I did six months ago."
Asked if she seriously thinks "there is no plan", the first minister said: "Yes I do". She added: "I say that with a lot of regret as that puts every part of the UK into a very perilous position."
Ms Sturgeon highlighted a meeting at Downing Street in October which also involved the first ministers of Wales and Northern Ireland. She said: "I'm not exaggerating too much when I say the prime minister sat on the other side of the table at that meeting and said 'Brexit means Brexit' and not a lot more."I came out of that meeting more frustrated, after a meeting of that nature, than I have ever been before."