Massive teachers protest in Buenos Aires challenging austerity measures
Thursday, March 23rd 2017 - 11:50 UTC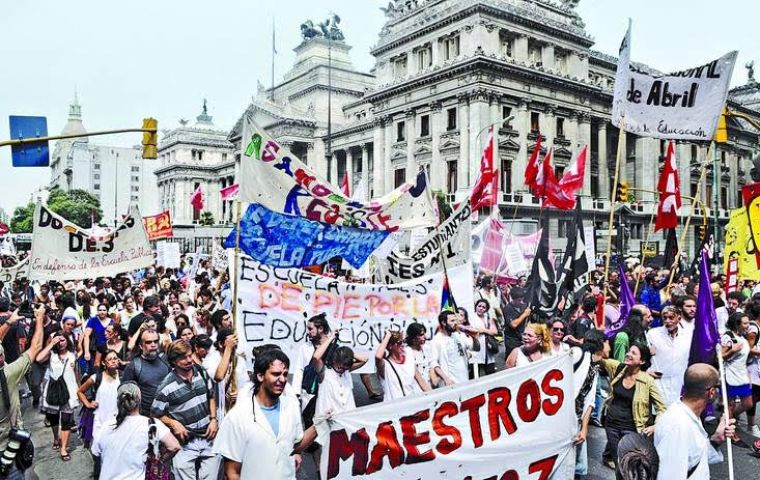 Tens of thousands of Argentine teachers marched in the capital Buenos Aires on Wednesday as part of a nationwide strike challenging the administration of President Mauricio Macri. Unions for private and public school teachers are demanding a pay increase of 35% to compensate for Argentina's high inflation in consumer prices.

Last year's inflation rate reached 40%. Provincial governments are offering raises of roughly half the teachers' demand, varying by region.

Teachers first began striking March 6, delaying the start of classes for millions of children and hitting public schools particularly hard. Some walkouts have ended, lasting only four days in several provinces that have resumed classes.

Demonstrators blocked some of the main avenues in Buenos Aires and gathered in front of the presidential palace. Macri has criticized the strike, calling it a politically motivated move ahead of October's congressional elections.

Macri compared the ongoing nationwide teachers' strike to the Hiroshima bombing and called on protesters to come back to work. The president posted on his Facebook account a photo of what seems to be a classroom in ruins after the bombing in Hiroshima. He added a caption saying that for a nation to rise, schools must not stop.

The president criticized protesters for abandoning their duties as educators.

Macri has fired tens of thousands of state workers and slashed utility subsidies to cut government spending and contain a huge budget deficit. His austerity measures have stoked labor unrest in a nation with a long tradition of the state providing jobs and benefits. Argentina's largest union is calling for a nationwide strike for April 6.