Falklands youths and adults learning ball hockey with Canadian coaches
Sunday, September 3rd 2017 - 00:12 UTC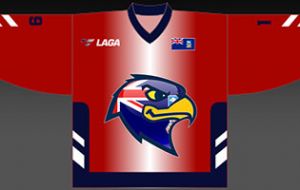 Experienced Canadian coaches Gary Slavin and Dave Weloy have made the journey across the globe to coach Falkland Islands youths and adults in the sport of ball hockey. Organized by Marcus Morrison, the trip was funded by the Shackleton Scholarship Quality of Life Awards, and the pair visit under the auspices of the International Street & Ball Hockey Federation.

In the Falklands for two weeks, they have a hefty schedule of training sessions in the Stanley Leisure Centre, and the hall was packed with enthusiastic little sports people listening avidly to their every word.

Coach Gary told Penguin News he started out as a goal tender in ball hockey and played for 24 years in total. Once he had children he, "got into the ball hockey junior program," in his community.

Through 16 years of coaching minor ball hockey he got to know people across Canada at a higher level and eventually became national director for his province, British Columbia. The province has sent teams to the Canadian national for the last 12 years and have achieved great success.

Ultimately, he became an Assistant Coach for the Canadian Ball Hockey Association and he travelled to Slovakia "for the Worlds," where they achieved a gold medal with the Under 18s team. Moving upwards he eventually ended up running the national program for Team Canada and at one point, "I selected all the players across Canada."

Coach Dave Weloy has coached the Canadian nationals for five years and the Junior Team Canada for four years. He is also at a high level within Canadian ice hockey.

Although Gary has travelled overseas for Team Canada five times, the Falklands is the furthest he's flown

He said: "Worldwide we have a governing body called the International Street Ball Hockey Federation. They govern all the countries around the world who want to start up ball hockey. So you contact them and they register you…"

He added: "Marcus really wanted to advance his program. Not just build with the kids and the junior program, but also the adults. "His goal is hopefully to one day put a junior team into a world championship and the same with an adult team." As such Gary and Dave were invited down to the Falklands, to not only teach systems to the junior members, but to prepare the adults at a more advanced level so they might understand, "what they would be up against if they travelled to a world championship."

He said it had been a great experience so far: "We knew we would have children from age 6 to probably 11 or 12; back home we are the ones that started the program for that age group locally.

"My son started when he was five; so we know what we are coming into, we know what to expect."

They will show the children the basics, "and get them ready for Marcus so that when he starts games and progresses each year he can show a little bit more. We have a lot of literature and booklets for Marcus to follow as he builds his program over the years."
Of the kids he added: "As long as they have smiles on their faces as they walk off and they come back tomorrow we are doing our job right."

Marcus hopes that there will be a youth team ready in the Falklands to compete in the next International Street and Ball Hockey Federation World Championships in 2018 ahead of an adult team competing in the Senior World Championships in 2019. The ball hockey club has four adult teams and over 80 youth players. (Penguin News).