Parliament begins marathon debate on EU Withdrawal Bill...and PM's May leadership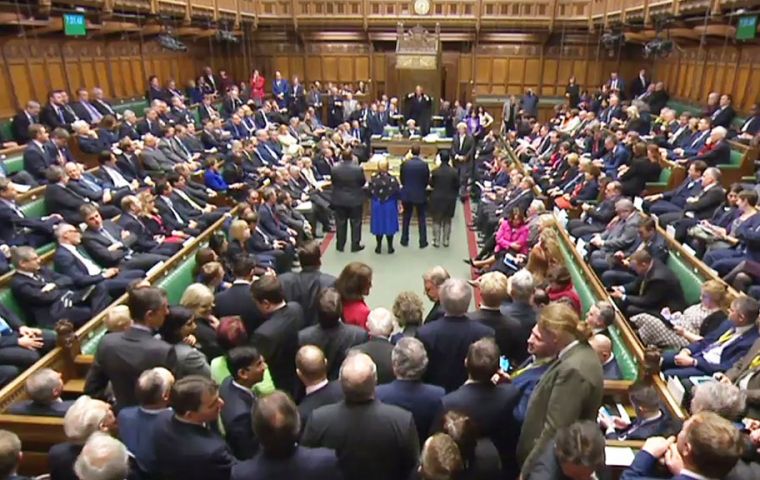 The British parliament started hours of debate on Tuesday by arguing over when the two-year negotiating period for Brexit should end and whether there should be a fixed time at all.

It was just the first day of what promises to be a lengthy set of debates in Parliament on Prime Minister Theresa May's blueprint, EU Withdrawal Bill, for leaving the European Union, debates that will challenge her diminished authority and could force changes to her Brexit plan.

MPs backed plans to repeal the 1972 European Communities Act, which will end the supremacy of EU law in the UK, by 318 votes to 68. Calls for Scotland, Wales and Northern Ireland to have a veto over the process were rejected by 318 votes to 52. But several Tories criticised plans to specify an exact date for Brexit and hinted they will rebel at a later date.

PM Theresa May absence on Tuesday on another engagement suggested she was not unduly worried by the initial discussion. But the debate's ill-tempered tone showed the level of anger in a Parliament emboldened since May lost her Conservative Party's majority in a June election and was forced to garner the support of a small Northern Irish party to be able to pass legislation.

With catcalls, sarcastic jokes and jeers being bandied about — not just between the two main parties, as is the custom, but often within them — some lawmakers took issue with the government's plans to quit the EU at 11 p.m. on March 29.

One, from the opposition Labor Party, said Britain should leave the EU on March 30, 2019, preferring midnight British time to the government's proposal to leave an hour earlier — which would be midnight in Brussels.

That was determined to be "technically deficient" by the government minister on the opposite side of the House of Commons, who said any amendment trying to move the exit date and time threatened to push Britain into "legal chaos" if the country's statute book were not in order when it leaves.

"As a responsible government we must be ready to exit without a deal, even though we expect to conclude a deep and special partnership [with the EU]," he told Parliament.

Behind the debate is the fear of pro-Brexit lawmakers that Britain may never leave the EU, and of pro-EU lawmakers who fear that by setting any firm date, Britain will have no flexibility in talks with the bloc and might end up with no deal. The debates go to the heart of what parliament calls "one of the largest legislative projects ever undertaken in the UK."

The process of transposing EU law into British law could not only reopen the divisions exposed when Britons voted in June 2016, by a 52% to 48% margin, to quit the EU, but also further undermine May's already fragile authority.

May has lost two ministers to scandals and her foreign minister, Boris Johnson, is facing calls to resign over remarks he made about a jailed aid worker in Iran. The Sunday Times has reported that 40 Conservatives support a no-confidence vote.
The prime minister has tried to ease tensions by offering lawmakers some concessions on the bill, but still faces more divisive debates that could go against her.