Chilean markets didn't like red Sunday: Peso and the IPSA stock market fall strongly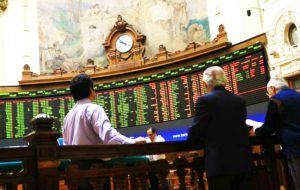 Chilean markets and investors did not like Sunday's election results: the Peso currency and benchmark IPSA stock index fell on Monday after market-friendly presidential candidate Sebastian Piñera garnered less support than expected in the country's election.
Chileans voted for a successor to outgoing center-left President Michelle Bachelet on Sunday. While billionaire former president Piñera will move on to a December 17 runoff against government-backed candidate Alejandro Guillier, the race is now seen as tighter than previously forecast.
The IPSA stock index closed down 5.86% at 5076.02 points, its sharpest single-session fall since 2011. The index hit its lowest level since August, but is still up 22% this year on rising copper prices and expectations Piñera will win.
The Peso suffered its sharpest depreciation against the dollar since 2013, slipping 1.68% to 637.40 per dollar.
The market moves were a "reaction to the risk that Piñera might not win the second round," said Hugo Rubio, head of trading at brokerage BTG Pactual Chile.
Piñera's underperformance led to expectations of a tight second round, particularly if turnout is high, though Guillier must unite a fractured center-left in order to win.
Both candidates would keep in place the top copper exporter's longstanding free-market model