Trucks loaded with soybeans block main highways in Brazil to protest fuel prices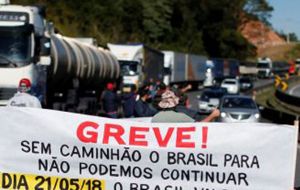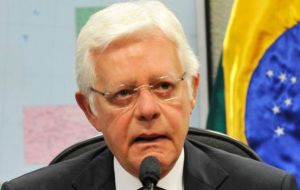 Brazil lorry drivers blocked major roadways around the capital of the country's largest grain state to protest increases in domestic fuel prices, affecting highways in 18 states, the federal highway police said on Monday.

The demonstrations added to pressure on the federal government to provide some relief from rising fuel costs, which would mean either backsliding on efforts to close a fiscal deficit or interfering in the state-run oil company's pricing policy.

Grain exporters association Anec said the protests have not had an impact on cargoes from grain producing regions. Abiove, a group representing oilseeds crushers, said the blockades are isolated and unlikely to disrupt the flow of agricultural goods in a significant way.

Mines and Energy Minister Wellington Moreira Franco said last week the government was discussing possible tax cuts to reduce fuel prices, which have surged nearly 50% at Brazilian refineries in less than a year.

Finance Minister Eduardo Guardia said on Monday that Brazil must carefully consider whether to cut fuel taxes to curb the sharp fuel price rise given a lack of "flexibility" on the fiscal side.

State-controlled Petrobras, whose freedom to track global fuel prices since July has helped an operational turnaround, raised diesel and gasoline prices on Monday to the highest levels yet under the new policy.

The government is likely to address the sensitive issue in an election year with a tax cut, analysts at the sales desk of Banco BTG Pactual told clients in a note, underlining the risk of worsening Brazil's large fiscal deficit.

On sections of a highway known as BR-163, which connects Brazil's farm country to major ports, truck drivers blocked access on the outskirts of Cuiabá, capital of Mato Grosso, only allowing passenger vehicles through, according to the toll road operator there.

At Santos, Latin America's largest port, protests around the area of the terminals caused delays in the reception and dispatch of cargoes since the early hours of the day, according to Codesp, the state-run company that operates the port.

Fecombustíveis, a trade group representing gas station owners, is also publicly demanding an overhaul of Brazil's tax code, which could help mitigate fuel price hikes by Petrobras.