Argentina blasts UK's reluctance to negotiate Falklands' sovereignty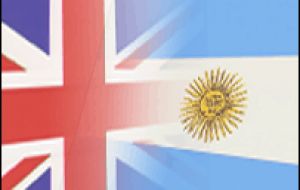 Twenty five years after the end of the Falkland Islands war, Argentine ratified this weekend its unflinching determination over the Islands sovereignty and described as "incomprehensible" the British attitude for having consistently denied resuming direct negotiations as has been established by United Nations since 1982.

According to the Argentine Calendar June 10, (four days before the Falkland Islands celebrates Liberation Day) is the Day of Reassertion of Argentine Rights over the Malvinas and other Antarctic islands and sector. The Argentine Foreign Affairs Ministry in an official release underlined the country's permanent and unflinching determination to recover, through peaceful means of diplomatic negotiations the full exercise of sovereignty over those territories. "The Argentine claim has been traditionally supported by the countries of our region and relevant international organizations, including the United Nations General Assembly and the General Assembly of the Organization of American States", reads the communiqué signed by Minister Jorge Taiana. "These forums have repeatedly requested to the governments of Argentina and the United Kingdom to resume negotiations that can lead to the definitive and peaceful resolution of the sovereignty controversy", adds the text underlining that the "British negative has impeded to comply with this call from the international community". In a direct criticism to British foreign policy the Argentine government considers "incomprehensible Britain's reluctance to resume negotiations" and reasserts its permanent willingness to resume negotiations with the purpose of solving, as soon as possible and in a fair and definitive way, the sovereignty dispute which remains unsolved. Last week Argentine president Nestor Kirchner signed a decree appropriating 500 million Argentine pesos (approx 160 million US dollars) to cancel pending social security debts with 14.000 Malvinas veterans. Apparently and in the coming 120 days Malvinas veterans, with no need to present claims will be paid with their pensions an average 8.500 to 10.000 US dollars of the accumulated debt.