US financial officials "forgot to preach with the example"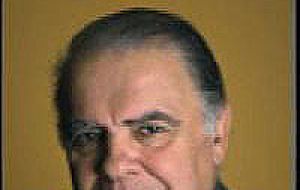 Unites States banking authorities and regulators who during the nineties recommended Latinamerica to closely monitor its financial system "apparently forgot to look at home and this has led to the current financial crisis", said Uruguayan economist Enrique Iglesias

The former president of the Inter-American Development Bank and head of several United Nations economic offices said that US authorities "did not preach with the example", because they forgot to apply the same prevention measures which for years they recommended to Latinamerican governments. Mr. Iglesias currently in Montevideo for a seminar on alternative policies in social security said that the main cause behind the current situation at global economic level "was cooked in United States with a dreadful banking performance particularly regarding risk taking and lack of controls". "In the nineties whenever we run into a crisis in Latinamerica they requested us to keep track of the fiscal deficit, let markets make the necessary adjustments, change central banks making them more autonomous, improve banking controls systems. All those advices apparently were not applied in the US and that's what has led us to where we stand now", added Iglesias. Regarding the US dollar vis-Ã -vis other currencies, which is one of the main global concerns, Iglesias said that "while the current situation in United States does not begin to be addressed, and confidence begins to be reestablished and Washington continues to ignore the huge misbalances of its economy, the US dollar will remain depreciated and loosing value". But he was optimistic about a solution to the current situation because "the whole international financial system is at stake, the heart of the capitalist economy. Something will happen, but along the road we're going to see many victims, particularly in the northern hemisphere". "In Ibero America we have two rough years ahead, but at the end the situation will come under control; we have complicated situations to endure, but we'll make it", forecasted Iglesias. "Much will depend on what happens with China". "As long as the contaminating effects don't reach the Asian markets, and China, from which we all depend for the prices of commodities, things will gradually change. But if somehow the US situation affects the Asian economies we'll also feel the full brunt of the impact", he said. Mr. Iglesias is currently secretary general of the Ibero-American community, seated in Spain but which includes all countries in the Americas of Spanish or Portuguese roots.