Wednesday,
July
15th
2009
- 11:25 UTC
Uruguayan ports will give Bolivian trade access to the sea
Sea access, trade, energy, cooperation and delisting coca leaves from the dangerous drugs inventory were among the main issues addressed by Bolivian president Evo Morales and his Uruguayan host President Tabare Vazquez during his brief visit to Montevideo on Monday.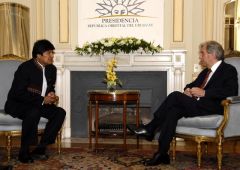 Facilitating the Uruguayan ports of Nueva Palmira and Montevideo for landlocked Bolivian trade plus developing the waterway system of the rivers Uruguay, Parana and Paraguay basin which reach the heartland of South America figured with priority in the joint statement signed at the end of the visit.
Uruguay also adhered and reiterated Uruguay's long standing solidarity with Bolivia's historic claim to a sea access.
Precisely the dispute over access to the sea with its Pacific neighbours, Chile and Peru, but particularly Chile, has driven Bolivia to take advantage of Uruguayan ports in the River Plate and Atlantic Ocean which can be reached through the Paraguay-Parana waterway system.
Bolivia on the other hand said it was prepared to supply Uruguay with natural gas from its vast resources, the second largest of South America, although the issue is not that simple because the existing pipelines are linked to Brazil and Argentina and any additional branch must be negotiated with these countries.
Another issue on the agenda was Urubapol, a development mechanism which in the seventies and eighties had strong support from multilateral organizations and was geared to promote development in the three smallest countries of the continent: Bolivia, Paraguay and Uruguay.
If the Urubapol project can be revived and Bolivia takes advantage of Uruguay's ports, the three countries could benefit with a significant increase in trade and investments along the waterway.
In spite of his brief visit, President Morales had time to visit Parliament where he was met by a multi-party delegation, and later was received in Montevideo's Town Hall. From a balcony he addressed a small crowd that had gathered in spite of the freezing weather to cheer the first Bolivian elected indigenous president.
Presidents Morales and Vazquez underlined the "excellent relations" between both countries and reaffirmed their strong determination to increase political, trade and cultural cooperation relations.
President Vazquez and the head of Parliament Rodolfo Nin Novoa also promised Morales that Uruguay would strongly support the delisting of coca leaves from the international dangerous drugs' list.
"Coca leaves are part of the Bolivian highlands culture. They have been chewing coca leaves for thousands of years, so its part of their way of life. It's as if the mate infusion was to be banned because it contains yerba (South American tea-herb)", said Nin Novoa.
Finally the joint document also included a reference to the political situation in Honduras. It expressed full support as the only legitimate elected leader, for ousted President Manuel Zelaya.
Morales added his own spice to the situation saying he had information that the US military were behind the coup in Honduras. However he offered no details.
"It's an aggression; a provocation from the (US) empire. With Tabare Vazquez we have expressed our solidarity and full support for president Zelaya. None of our countries are going to recognize any other president but Zelaya, said Morales during a brief encounter with the Montevideo press.
All hemispheric countries including President Barrack Obama's administration have condemned the ousting of Zelaya and are working for a political solution to the conflict.
Zelaya was flown out of the country, in what is known as the "pyjama coup", the same day he was to hold a referendum for his possible re-election, which had been considered unconstitutional by Honduras Supreme Court and Congress.