Iran loans Bolivia 280 million USD to develop industry and energy sector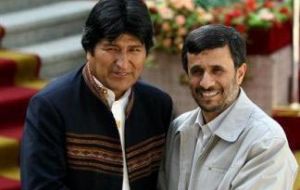 Iran's top representative in Bolivia said Tehran has approved a 280 million US dollars loan for the Bolivian government to develop its industry and energy sector. Iranian diplomat in La Paz a Masoud Edrisi told the Associated Press Wednesday that the terms of the low-interest loan have net yet been set.

Iran's relations with Bolivia have greatly improved during Mahmoud Ahmadinejad's government. Ahmadinejad and his Bolivian counterpart Evo Morales have exchanged state visits.

Iran pledged in August, 2007 to invest 1.1 billion Euros in Bolivian agriculture, industry, energy and humanitarian affairs. Iran has sold Bolivia tractors made in Venezuela, built dairy factories and offered to help finance a cement plant.

Edrisi also mentioned that eleven Iranian embassies are now active in Latin America.

The growing ties between Iran and Latin American countries, including Venezuela, Cuba, Nicaragua and Bolivia, have raised concerns in Washington, which has been trying to isolate Tehran over its nuclear activities.

Israel is also increasingly concerned about Teheran's penetration in Latam and the country's Foreign Affairs minister Avigdor Lieberman this month made a 10-day tour of the region, the first in 23 years.

The main purpose of the visit was to counter Teheran's influence and warn about Iran's alleged plans to have nuclear weapons and its ongoing support of extremist groups that have promised to destroy Israel.

Lieberman also claims that Bolivia and Venezuela are involved in supplying uranium to Iran, which was denied point blank by both countries. However it is known that Bolivia has unexploited deposits of the mineral and the statement could be interpreted as a warning that Israel is well aware of Iran's plans.

In related news the Bolivian government announced this week it had begun negotiations to take control of the country's power generating companies.

The Energy Ministry said the negotiations are aimed to establish the value of leading generation companies but did not say if the government aimed to secure a controlling stake or full ownership.

"These negotiations aim to restore state control to these strategic companies that are part of the electricity generation grid," a ministry statement said.

"Once we have the results of the valuation, the state will start the stage of final negotiations and closing deals," the statement added.

The country's biggest power generators are Corani, Guaracachi and Valle Hermoso. They emerged in the 1990s following the privatization of the state National Electricity Company (ENDE) and account for about half of Bolivia's electricity market.

Corani is 50% owned by Inversiones Ecoenergy Bolivia S.A., a subsidiary of France's GDF Suez. Guaracachi is 50% owned by Britain's Rurelec PLC while Valle Hermoso is run by a foreign private firm called the Bolivian Generating Group.

In each of the three firms, half the shares are held by private investors with the rest held by private retirement funds on behalf of Bolivian pensioners.