Peru proposes "non aggression pact" to counter arms race in Latinamerica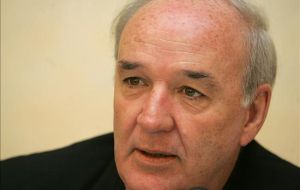 Peru proposed before the United Nations General Assembly a "non aggression pact" to ensure a peace area in South America and to help counter what it describes the costly arms race. The issue has become highly sensitive in the region.
The proposal triggered an immediate reaction from neighbouring Chile which has invested billions of US dollars in updating and re-equipping its forces.
"The issue is not Peru/Chile, the issue if for the whole Latinamerican region because there are countries which have made massive and costly purchases of arms, and that is where the non aggression pact is directed to", said Peruvian Foreign Affairs minister Jose Antonio García Belaúnde.
The Peruvian official added that since the creation of the Union of South American Nations back in 2004, the region has spent billions of dollars in arms purchases.
Garcia Belaunde revealed that during an interview with UN Secretary General Ban-Ki-moon and his experts, the initiative had received "significant receptivity".
"There was even an offer for UN technical cooperation, if it were needed" he said.
However Chile was quick to react and President Michelle Bachelet said that "Chile is very happy with the current status quo; we do not have an aggression policy, on the contrary we have a defence-dissuasive policy".
Bachelet instead proposed "mutual confidence building" measures. A "non aggression pact" belongs to "another time".
According to SIPRI (Stockholm International Peace Research Institute) figures quoted by Peruvian officials, Latinamerica has spent or committed 38 billion US dollars in arms purchases in the last two years.