Argentina after an agreement with the IMF at the G20 Scotland meeting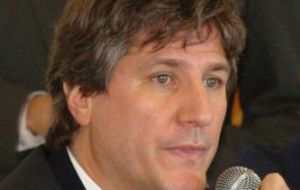 Argentina's Economy Minister Amado Boudou travels to Scotland Thursday where he will participate in a meeting with his G-20 counterparts. Boudou is also scheduled to meet with International Monetary Fund (IMF) head Dominique Strauss-Kahn.

Both men will try to reach an agreement over the return of Argentina to the organization. "On Thursday, I will travel with the Finance Secretary (Hernán Lorenzino) to Scotland to participate in the last G-20 meeting of the year" Boudou told the press in Buenos Aires.

Boudou and Lorenzino are also expected to keep working on the 20 billion dollars pending debt-swap and will negotiate the conditions of Argentina's return to the organization.

It is known that Boudou, following on instructions from the President Cristina Fernandez de Kirchner administration, would like the IMF to accept to only perform technical inspections over Argentina's economy in exchange of the country's return, instead of also controlling the country's policies.

A decision on the role to be played by the IMF is crucial to reach an agreement with the Argentine defaulted bonds holdouts (20 billion USD) and the Paris Club, a governments' credit institution that brings together most developed countries and loans directly to developing peers.

Argentina has a pending debt of 7 billion US dollars with the Paris Club and creditor nations demand an IMF audit of the Argentine finances to reach an understanding.

Boudou also predicted that 2010 is going to be an excellent year for the Argentine economy and recommended Argentine investors not to bet on the US dollar, which he described as a "bad idea".

"We are going to have a very, very good 2010" emphasized Boudou who recommended that those who can invest should target the "real economy", try and "improve your home, expand it or even better move up the ladder into a new house".

The minister insisted the US dollar as investment or refuge was a "bad option" and invited Argentines to invest in the real economy: "you can invest in the stock exchange in Argentine corporations; you can try long term bank deposits in pesos which will help expand credit, but I'm convinced that in 2010 the big bet is in the real economy".