EU/Mercosur sign cooperation agreement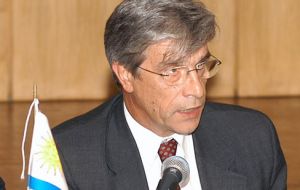 The European Union and Mercosur signed a cooperation agreement involving 27 million US dollars earmarked for the sustainable development of the region.
The ceremony was signed last Saturday and includes a grant of 18 million US dollars from the EU plus the remaining 9 million to be provided by Mercosur full members, Argentina, Brazil, Paraguay and Uruguay.
Better known as Econormas, the program in support of the Strengthening of Mercosur Economic integration and sustainable development is basically cohesion-inspired with the objective of promoting sustainable production and consumption practices as well as boosting environment and public health.
"The main goal is to support consolidation of the Mercosur block and sustainable development in the region", said Walter Cancela, Uruguay's Director for Political, Integration and Mercosur affairs from the Foreign Affairs ministry.
Geoffrey Barrett, head of the EU delegation for Uruguay and Paraguay said the program should help increase trade through "a convergence of rules and technical procedures".