Mercosur considering "sovereign fund" as protection against weak US dollar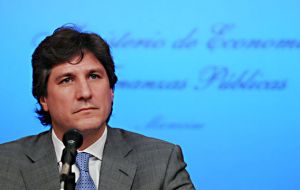 Fearful of the continued depreciation of the US dollar vis-á-vis other global currencies, Mercosur country members admitted one of the possibilities under consideration for the management of international foreign reserves is the creation of a kind of sovereign fund.

According to Argentine sources, during the recent Mercosur summit in Montevideo, Finance ministers from Argentina, Brazil, Paraguay and Uruguay considered different joint approaches to help reduce the risks of monetary volatility and its impact on their economies.

The inclusion of the issue during the Montevideo summit was the initiative of Argentine Economy minister Amado Boudou together with Canada's Deputy Foreign Secretary Leonard Edwards who was specially invited to participate since the city of Toronto will be hosting the G-20 meeting next June.

"Mercosur will try to reach next February a common position for the coming G20, particularly regarding the sustained devaluation of the US dollar and the possible creation of something similar to a sovereign fund", said Boudou.

Luiz Eduardo Melin, Brazil's Finance Ministry cabinet chief said that there is growing concern because of a lack of a reference parametre for the next twelve months regarding the exchange rate of the US dollar against the world's main currencies.

"The situation is aggravated by the fact that the Chinese currency, the Yuan is excessively depressed against the US dollar", said Melin.

Argetnine diplomatic sources said that the initiative of a regional sovereign fund effectively is "in the horizon" to protect a percentage of Mercosur country members international reserves from a quick US dollar depreciation, Most resevers in the four countries are in US dollars.

Boudou in Montevideo also insisted on the need to expand the exchange rates swap system to Mercosur and its associate members (Bolivia, Chile, Ecuador, Peru, Colombia and Venezuela). It is a swap system similar to that implemented last year by Brazil and Argentina.

Melin and Boudou also defended the expansion of the Payments in local currencies system, SML, another mechanism which Brazil and Argentina have been testing for some time now with their bilateral trade. The idea is to convince the rest of the block members to apply SML.

The system is forecasted to begin to be applied in 2010 in the bilateral trade between Brazil and Uruguay.

Although the SML only covers 1.5% of trade between Argentina and Brazil it is seen as an efficient mechanism for small and medium sized companies since among other things it eliminates exchante rate operaion costs.