Putin consolidates Russian partnership with Venezuela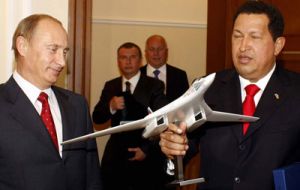 Russian Prime Minister Vladimir Putin arrived Friday in Venezuela for his first visit to the OPEC nation as he prepared to sign energy, defense, and financial agreements with President Hugo Chavez.

A group of Russian oil companies agreed to work as minority partners with Petroleos de Venezuela SA to develop the Junin 6 heavy oil block in the Orinoco Belt with expected investments of about 18 billion USD, Oil Minister Rafael Ramirez told reporters on March 31.

The venture will begin with production of 50,000 barrels per day this year and eventually boost output to 450,000 barrels per day, he said.

Chavez, who has visited Russia eight times during his 11 years in power, is strengthening ties with governments critical of US foreign policy as he seeks financing and offers stakes in untapped oil reserves.

Chavez has spent more than 4 billion USD on Russian rifles, helicopters and fighter jets in what he says is an attempt to protect the country from a possible U.S. invasion.

"This visit is very important for our country and for Latin America," Chavez said on state television. "We're forging a new multipolar world and Russia plays a big part in that process."

Putin is also scheduled to meet with Bolivian President Evo Morales in Caracas before he returns to Moscow following a wave of explosions in Russia that President Dmitry Medvedev said would be met with a "brutal" response.

Chavez said that the two countries are set to open a bi-national bank to finance development projects and that Russia may consult Venezuela on developing a peaceful nuclear energy program, Chavez said.