Serra Calls for a More "Flexible" Mercosur; Claims it Limits Brazil's "Sovereignty"
Monday, April 26th 2010 - 01:10 UTC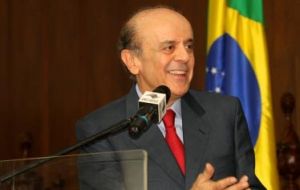 Brazilian opposition presidential candidate Jose Serra—who leads in public opinion vote intention polls—reiterated his call for a more "flexible" Mercosur, effectively becoming a free trade area, because the current format limits Brazil's sovereignty to sign agreements with other non member countries.

"Mercosur must be made more flexible, so as to avoid an obstacle for aggressive trade policies; we're not talking of the end of Mercosur, on the contrary", said José Serra, the presidential candidate for the opposition Social Democracy Party of Brazil, PSDB.

Jose Serra said that the current format of Mercosur, as a customs union, limits free trade agreements with non member countries—unless there is a consensus in the block—which restricts Brazil's international bargaining latitude.

"There are two steps in an integration process, the first is free trade, the second adopting a common trade policy which was finally reached by the European Union after decades, where countries give up their national sovereignty and establish common import tariffs", said the former governor of Brazil's powerhouse the state of Sao Paulo.

This is not the first time Serra—who leads by six to eight points incumbent candidate Dilma Rousseff ahead of the October 3 presidential election—has expressed strong concern about Mercosur restrictions on its members including Brazil.

However, last week Argentina's Foreign Affairs minister Jorge Taiana disagreed with Serra and stated that Mercosur was "advancing". Brazil is Argentina's main trade partner particularly for manufactured goods such as the automobile industry.

Asked about future relations with Argentina, Serra said that if elected, and in spite of differences regarding Mercosur, his administration would respect the current rules of the South American block.

"I defend and promote a more flexible block, but the reform is not a unilateral decision, it would have to be worked out with the rest of our Mercosur partners", said Serra in an interview with Folha de Sao Paulo.

Serra also questioned the effects of an "under valued" Chinese Yuan and the "dumping" practices Brazilian manufacturers must face.

Brazilian manufacturers are exposed to Beijing's exchange rate policy and the fragile trade defences we have to face Chinese dumping" insisted Jose Serra.