Peruvian president criticizes spiralling military expenditure in South America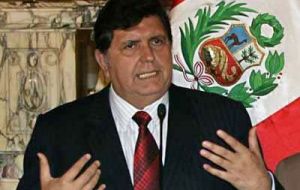 Peruvian president Alan Garcia criticized spiralling military expenditure in South America, a fact he linked to the recently created Union of South American Nations, Unasur.

"Since the start of Unasur…we have doubled expenditure in arms in the South American countries, so honestly, I don't know what is the use of Unasur", said the Peruvian president interviewed by the Spanish media in Madrid.

"From the point of view of arms purchases and conflicts, in the four years since the foundation of Unasur, the region has spent 25 billion US dollars in arms and another 150 billion in current military expenditure. At this rate in the next four years, we will be buying 35 billion in arms and spending 200 billion in maintenance of military equipment and personnel".

Garcia said all this sounds absurd "from the moment presidents sit round a table to share coffee and lunch and other social activities: if so friendly, why then the arms? It's hard to understand, but probably the power and convincing conditions of those selling arms is much greater, and among them Europe, United States and Russia".

The Peruvian president also criticized the proliferation of regional groups.

"If you look at the map, we have CAN (Community of Andean Nations), Unasur, Mercosur, the Rio Group, we have a "multi-summits" passion that looks like a catwalk syndrome of permanent meetings. In the meantime we keep purchasing arms and what is all this good for?" asked García.

However he admitted, "I complain but I attend the Unasur meetings, at least to try and talk about these issues there", although he recalled that a block, "solid block as the European Union, EU, needed fifty years to achieve it".