Bank of England leaves rates and quantitative easing funds unchanged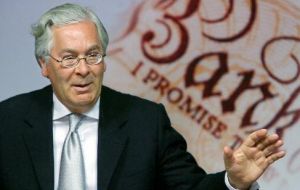 UK interest rates have been kept on hold at a record low of 0.5% for the 15th month in a row. The Bank of England also decided on Thursday not to inject any more money into the UK economy under its policy of quantitative easing (QE).
Interest rates have now been at 0.5% since March 2009. The stock of asset purchases financed by the issuance of central bank reserves was left unmoved at £ 200 billion.
Meanwhile a Reuters' poll of 61 economists suggested the central bank would not raise rates until next year. Trevor Williams, chief economist at Lloyds Banking Group Corporate Markets, said the decision was "no shock at all".
"The story is the economy is still very weak," he said.
Inflation in April hit its highest rate in 17 months. On the Consumer Prices Index (CPI) measure, inflation hit 3.7% - well above the Bank's target of 2% and the highest rate since November 2008.
The Bank uses interest rates to try to curb inflation, but Mr Williams said: "The target was never meant to be hit every single month. It's a medium-term target. And I think they're quite right to hold off. I think [inflation] will fall back later in the year."
However, last month a leading economic think tank warned that rates would have to rise to control inflation. The Organisation for Economic Co-operation and Development (OECD) called for the Bank of England to raise the cost of borrowing to 3.5% by the end of 2011.
The program of asset purchases financed by the issuance of central bank reserves was initiated on 5 March 2009 and the most recent change in the size of that program was an increase of £25 billion to a total of £200 billion on 5 November 2009.
The minutes of the BoE Monetary Policy Committee meeting will be published on Wednesday 23 June