World production of rough rice affected by dry weather in Mekong River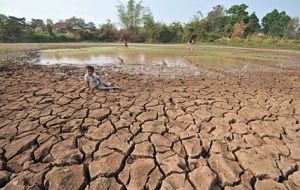 Global production of rough rice, the staple for half the world's population, may be 6 million tons less than estimated earlier this year after prolonged dry weather in the Mekong River region hurt crops, according to the United Nations Food and Agriculture Organization.

Output may be 704.4 million metric tons this year, or 470 million tons of milled grain, the FAO said in a report yesterday after paring estimates for harvests in Asia, including Thailand. That compares with April's forecast for record output of 710 million tons. Global demand was projected at 461 million tons of milled grain, up from April's forecast of 454 million.

Dry weather pushed water levels in the Mekong to their lowest level in 30 years near Thailand's border with Laos, the Thai government said in March. The river also runs through China, Myanmar, Cambodia and Vietnam and the areas that rely on it for irrigation grow enough rice to feed 300 million people, according to the Mekong River Commission website.

"The pattern of the monsoon rains over Asia will hold particular sway" for prices said the FAO report. Rainfall will determine India's potential return to the global market as a rice supplier or lower the availability of exports from countries including Thailand and Pakistan, it said.

India's monsoon, the main source of irrigation for the nation's 235 million farmers, was 13% below normal as of this weekend, the India Meteorological Department said on its website. The monsoon was 16% below normal in June.

Rice trade expectations for 2010 have been lowered 900.000 tons to 30.4 million tons, particularly given "the slow dispatch of imports from Asian countries", said FAO. Larger import orders are expected from Bangladesh, Nepal, Philippines, Arab Emirates, Yemen, Brazil, European Union and Madagascar. Purchases by Iran, Mali, Saudi Arabia Thailand and Vietnam could contract this year anticipates FAO.

The FAO Rice Price Index, a gauge of 16 prices from around the world, fell 15% between January and June on better-than-expected output in India, the world's second-largest grower and consumer of the grain.

Rice futures in Chicago, which peaked last December at 16.27 USD per 100 pounds on concern that India may become a net importer for the first time in more than two decades, traded last week at 9.84 per 100 pounds.