Brazilian star calls Lula da Silva "coup-monger" and Serra, "an idiot"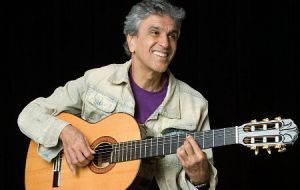 Caetano Veloso, one of Brazil's most exquisite poet-singers has called President Lula da Silva a "coup monger" and the opposition presidential candidate Jose Serra, a "moron" and an "idiot".

Veloso no fan of Lula da Silva again criticized the Brazilian president in an interview with the local media in Santo Amaro, his home town in the north-eastern state of Bahia, during the celebration of his mother's 103rd anniversary who happens to be a follower of the former union leader turned into president.

Last year Veloso called Lula da Silva "illiterate" and now described him as a "coup-monger" for having asked the Brazilian electorate "to extirpate with votes from Brazilian politics", the ultra-conservative Democrat party.

"People can't listen to that and remain with crossed arms. And if someone in the press objects, 'some idiot is calling him a coup monger', a coup monger is someone who needs to destroy a party that exists within the law".

The singer and composer also attacked Jose Serra, the main presidential candidate of the opposition running with the Brazil's Social Democracy party, who during the campaign aired images of him next to Lula da Silva.

"Serra is an idiot who wanted to look like Lula da Silva, wanting people to believe he is like Lula. He's a moron", insisted Veloso who added that the ruling Workers Party candidate Dilma Rousseff counts with the "un-critical" support of the people to President Lula da Silva.

"It's like if we had a hypnotized population. People aren't thinking with clarity or freedom. We're on the wrong track back to the Latin America of the forties and fifties. Brazil, the Brazilian people can't go on along this line", insisted Veloso.

Veloso is actively participating in the October 3 presidential election campaign of the Greens and their candidate Marina Silva, who has an 11% support according to the latest public opinion polls.

Ms Silva is a former Environment minister with President Lula da Silva. Silva resigned from cabinet and the Workers Party, of which she was one of the founders, following divergences over environment policies in the Amazon basin.

The polls indicate that Ms Rousseff has a solid 51% support while her main rival, Serra remains stuck at 27%.

If there percentages are confirmed there is no need for a run-off at the end of the month and Brazil's next president will be for the first time a woman, former guerrilla and economist who held crucial posts in Lula da Silva's cabinet, but never before had run for office.