Penguin Appeal to help finance a census of Falkland Islands seabirds
Monday, October 4th 2010 - 22:53 UTC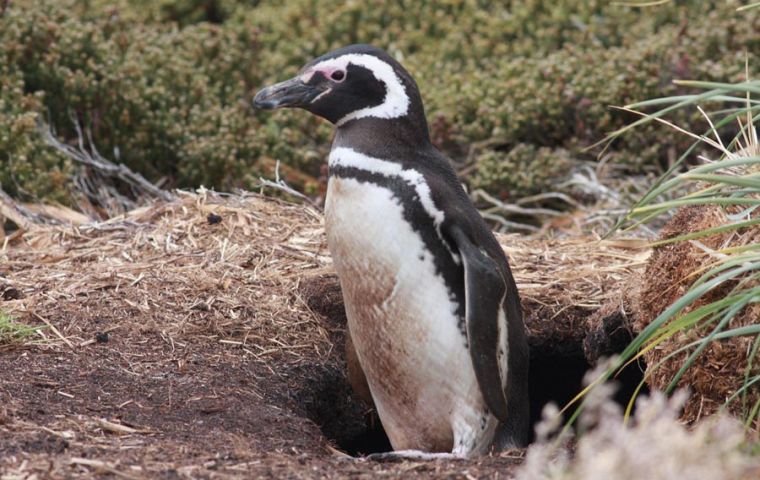 Often described as the penguin capital of the world, the Falkland Islands will be undertaking a census of penguin breeding sites throughout the Islands. It will provide essential information on their breeding colonies to determine action for the future protection of the seabirds.

Organized by Falkland Islands Conservation through the Penguin Appeal, the census will take place during November and December 2010 and last for five weeks. Three teams including scientists, volunteers and local guides will visit seabird colonies on East Falkland, West Falkland and the numerous smaller islands including Beauchêne Island, located 50 miles to the south of the main archipelago.

The black-browed albatross population (the Falklands hold 70% of the world population) will also be monitored. This work will be followed by the first ever Falkland survey of Magellanic Penguins early in 2011.

Research on Rockhopper Penguins will be undertaken through the summer fieldwork season.

The Falklands are a global stronghold for the declining Southern Rockhopper Penguin and hold a quarter of the world's Gentoo Penguins. King Penguins are at their northerly limit and many thousands of Magellanic Penguins nest in burrows all around the remote coastline.

The Project cost of £30,000 includes boat charter to reach many offshore islands, essential survey equipment, and data analysis and Falklands Conservation is requesting support for the Penguin Appeal to ensure the completion of the census.

Described as a race against time to protect the seabirds of the South Atlantic, it is also considered vital work to address the protection of all penguins in the face of potential threats, particularly offshore oil development.

Falklands Conservation takes action for wildlife in the Falkland Islands and practical conservation work: rescues oiled penguins; aims to reduce the killing of albatrosses by fisheries in the South Atlantic; studies the unique and native species of the Islands and campaigns for their protection.

The Penguin Appeal aims to raise funds to support protection of wildlife in the South Atlantic, in particular the five species of penguin that live and breed in and around the Falkland Islands. Falklands Conservation Patron is HRH The Duke of York

To make a donation to the Falklands Conservation Penguin Census Appeal please send a check to: Sarah Brennan, Falklands Conservation, 14 East Hatley, Sandy, Bedfordshire, SG19 3JA, UK or e-mail me on sarah.brennan@conservation.org.fk to discuss preferred method of payment.