Mapuche friendly cardinal named Archbishop of Santiago de Chile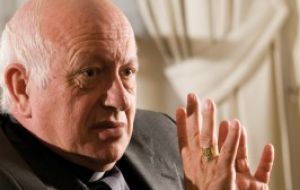 The former archbishop of Concepción, Cardinal Ricardo Ezzati Andrello, has been named as the new archbishop of Chile's capital Santiago. He will replace cardinal Francisco Javier Errázuriz Ossa.
Ezzati's appointment was announced by the Vatican Wednesday morning, though he was informed of their decision on Dec. 7. While expressing sadness at leaving his position in Concepción, he said, "I would like to ask the people of the Archdiocese of Santiago to pray for me and together we can be a sign and an instrument of the Lord in the midst of our city."
As Archbishop of Santiago, Ezzati automatically becomes the spokesperson for the Catholic Church in Chile.
In a country where 70% of the population is Catholic, leaders of the Catholic Church are often called in to resolve political and human rights issues such as the Mapuche land conflicts and, more recently, the Easter Island land disputes.
Ezzati played an important role in ending the 82-day Mapuche hunger strike, acting as a mediator between Mapuche leaders and the government.
A spokesperson for some of the Mapuche strikers, Erick Millán, said the appointment of Ricardo Ezzati was "something positive."
"He is a very neutral person who was always concerned for the health of our brothers; because of that concern and the efforts he made, we are grateful for his appointment," he said.
Born in 1942 in Vicenza, Italy, Ezzati first came to Chile in 1959. He was ordained as a priest in 1970 and in 1996 became Bishop of Valdivia. Ten years later, in 2006, Pope Benedict XVI named him Archbishop of Concepción. In November this year he was elected President of the Episcopal Conference of Chile for a period of three years.
By Sarah Fisher – Santiago Times