Six candidates to fill the post of FAO Director General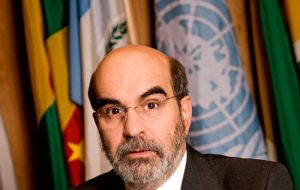 Six candidates have been put forward by member nations of the UN's Food and Agriculture Organization (FAO) to succeed Senegalese Jaques Diouf as Director General in elections to be held in June.

The candidates, chosen by their governments, include Jose Graziano da Silva, the former minister for food security in Brazil under ex president Lula da Silva who is credited with having organized the very successful "plan bolsa" and "fome zero" (zero hunger) which helped to lift millions out of poverty.

Indroyono Soesilo from Indonesia, Mohammad Saeid Noori Naeini from Iran, Abdul Latif Rashid from Irak and Spain's ex-foreign minister Miguel Angel Moratinos Cuyaube are also candidates, along with the ex-European agriculture commissioner Franz Fischler from Austria.

The election of a new director general will take place in a secret ballot at the beginning of the 37th FAO Conference, to be held in Rome from June 25 to July 2. The deadline for nominations was January 31.

FAO's new chief will be elected by a majority of votes cast by the organization's 191 member nations and will follow Diouf, who has been in office since 1994.

Since FAO was founded in 1945, there have been seven director generals, from Britain, the United States, India, the Netherlands, Lebanon and Senegal.

The election takes place when international food prices speared by production, economic and climate factors have ballooned creating social turmoil in several countries.