India mounting a third research station in Antarctica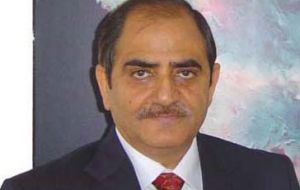 Work on India's third research station in Antarctica for undertaking studies on various subjects, including climate change, is on track and will be completed in two years, a top scientist said Wednesday.

Named 'Bharati', the research facility will also have earth station, to be built by ISRO, for enabling faster sharing of information gathered from satellites and ground laboratories with institutions in India.

"The work on the station is on track. It is coming up as per time. It is likely to start functioning in 2012-2013," Rasik Ravindra, Director, National Centre for Antarctic and Ocean Research, said addressing the Indo-Norway Joint Seminar on Polar Research in New Delhi.

He said the government has also approved a proposal to refurbish the existing research station 'Maitri' and equip it with modern facilities.

Once operational, the earth station will also help researchers in enhancing capabilities of Indian polar orbiting satellites, he said.

Addressing the inaugural function, Science and Technology Minister said Antarctic and Arctic are nature refrigerators on earth where 90% of the total ice on this planet is stored.

Noting that India has been pursuing scientific investigations in the Antarctica for about three decades now a wide gap exists in the knowledge about the Arctic.

"This was in fact hindering a much-needed bi-hemispherical approach to polar sciences. The Arctic Ocean and the surrounding regions are one of the most important areas that govern the earth's climate," he said.

He also reiterated India's commitment in collaboration with Norway in Polar Research program and support through scientific contributions.

Norwegian Minister of Research and Higher Education Tora Aasland also called for more collaboration between scientists of both countries in polar research.

The "Bharati" research station is located in an area beside Larsmann Hill at 69°S, 76°E and is scheduled to be operational by 2012. When it is complete, India will enter the elite group of nine nations having multiple stations within the Antarctic Circle.