Ibero-American Secretary Iglesias recovering from vascular accident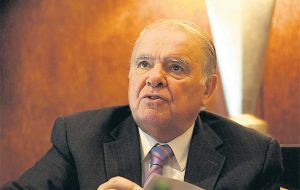 The chief operator from the Ibero-American Secretariat, Spanish born-Uruguayan economist Enrique Iglesias (80) is recovering from a vascular accident and this "will not impede him from retaking normal activities" according to the latest medical reports Monday from the hospital in Montevideo where he is being treated.

Iglesias has an "artery obstruction which did not turn into a major attack because of quick medical diagnosis and treatment" said Dr. Enrique Besada head of the Cardiology Department at the Casa de Galicia Hospital.

The patient is in stable condition at the intensive care unit and "we don't expect complications" said Dr. Besada, "but not because of a serious condition but to have better control over his overall condition".

Iglesias arrived Sunday at the hospital complaining of an apparent "digestive problem but following tests he was diagnosed an acute coronary accident". A clot was obstructing one of his coronary arteries and "a 'stent' was introduced to reopen the blood vessel and avoid a further obstruction"

Hospital sources said that the former president of the Inter-American Development Bank is expected to remain another 48 hours before being discharged and will be recommended to remain in Uruguay resting for at least another ten days.

Iglesias on Saturday participated in a forum organized by the Astur Foundation, which he chairs, together with Uruguayan president Jose Mujica and other international consultants to discuss "Where are world economies heading?"

The Madrid based Ibero-American General Secretariat that aims to promotes closer ties among Spain, Portugal and Latin America and links 500 million people, was created at an Ibero-American summit in Costa Rica in 2004.