President Obama will underline 'coincidences' during his visit to Brazil
Tuesday, March 15th 2011 - 11:05 UTC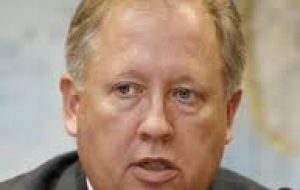 US ambassador in Brazil Thomas Shannon downplayed differences between Washington and Brasilia saying that coincidences are far greater and will be the core of discussions during the coming visit of US president Barack Obama next week end.

"Discrepancies are normal, particularly when the country is Brazil, a country with its own opinions but the convergence points are far more important that divergences", said Ambassador Shannon in an interview with O Estado de Sao Paulo.

In recent years political differences in the approach to issues such as Cuba, Venezuela, Honduras, Middle East, among others have caused 'some frictions' between the US and Brazil but that "corresponds to relations between two big countries", said the former US Under Secretary of State for Hemispheric Affairs.

Shannon said that the coming visit of President Obama next Saturday, which also includes Chile and El Salvador, is indicative of Washington's special interest in Brazil and an acknowledgement of the role Brasilia plays as an emerging power.

The US ambassador also underlined the "symbolic meaning" of the first meeting of a US president of African descent and the first woman president of Brazil, Dilma Rousseff.

Shannon said that one of the aspects President Obama will underline during his visit to Brazil is the way in which this country "has shown how democracy and a market economy can promote social justice" by developing policies that opened the way for millions to climb the social ladder out of poverty.

Obama is also expected to take advantage of the trip to promote the US sale of 36 Boeing F 18 Hornet fighter bombers, including technology transfer, which is competing with France's Dassault Rafale and Sweden' Saab Gripen for a several billions contract with the Brazilian Air Force.

As to the call in Rio do Janeiro of President Obama on Sunday, following a meeting with President Rousseff in Brasilia, Shannon said the US leader is interested in visiting the city that will host the 2014 World Cup and the 2016 Olympic Games.

The Brazilian government is also expecting a strong signal from the administration of President Obama in support of Brazil as a permanent member of an expanded UN Security Council, according to Sao Paulo media reports.