Thursday,
March
17th
2011
- 00:51 UTC
Hours before Obama arrives, Brazil reaffirms its commitment is with Mercosur
When US president Barack Omaba lands in Brazil next Saturday the emphasis of the visit will be on deepening economic relations and potential business opportunities, but Brazil has made it plain clear that any free trade talks with the United States can only take place in the framework of Mercosur.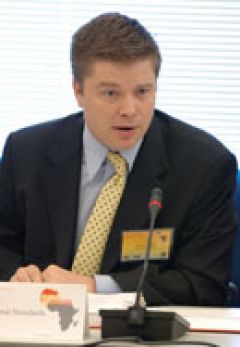 "I do expect some significant announcements that will take the relationship to the next level," Steven Bipes, executive director of the Brazil-U.S. Business Council, told reporters.
Those announcements include the possible signing of a trade and investment framework agreement that would create a forum "to discuss ways to expand bilateral trade and could lead eventually to negotiations on a free trade pact", added Bipes.
However in the past Brazil has insisted that any free trade talks with the United States could only occur with its partners in the trade pact Mercosur, which include Argentina, Uruguay and Paraguay.
Itamaraty sources reiterated Brazil's position and its commitment to Mercosur just a few hours before President Obama arrives in Brasilia. Brazilian diplomats recalled that not so long ago Uruguay was in the process of reaching a free trade agreement with the US but turned it down precisely because of its commitment to Mercosur.
Nevertheless business leaders in Brazil expect the two sides will announce the start of talks on a tax treaty and further steps to expand cooperation in bio-fuels and nuclear energy, Bipes said.
US Trade Representative Ron Kirk, Commerce Secretary Gary Locke and Energy Secretary Steven Chu will accompany Obama on his first trip to Brazil as president. In Washington Mike Froman, Deputy National Security advisor for International Economic Affairs noted Brazil's 7.5% economic growth last year and the 80 billion US dollars trading relationship with the United States and the fact that U.S. exports to Brazil have doubled over the past five years.
Another area where United States and Brazil are leading players is in the Doha round of world trade talks launched in late 2001 with the goal of helping countries prosper through trade.
Washington argues that emerging developing countries such as Brazil, India and China must make better offers to open their markets in areas such as manufacturing and services for the Doha round to produce meaningful results.
Bipes played down chances for Obama and Brazilian President Dilma Rousseff to lay out a joint vision for bringing the Doha round to as successful conclusion, as both they and other leaders of the Group of 20 nations have said they want.
But "I expect some things to come out of this that are not on our radar" Bipes said