Vazquez denies saying the Kirchners had behaviour patterns recalling fascism
Saturday, April 9th 2011 - 00:21 UTC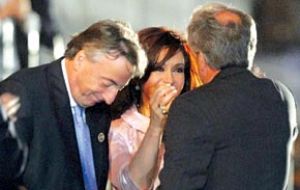 Former Uruguayan president Tabaré Vázquez denied this week that he ever said that his Argentine counterparts Néstor and Cristina Kirchner are "fascists", like Wikileaks cables stated.

"I never said Kirchners had behaviour patterns that recalled of fascism. I never mention presidents of other countries nor do I talk of Uruguay's internal problems outside the country," Vázquez said.

"My relationship with Néstor Kirchner was very good. Excluding the Botnia pulp mill case, the bilateral relationship was very good. There were difficulties, like there are in every families and neighbouring countries. The biggest difficulty was with the Botnia pulp mill. But the last time I say Kirchner in person was when José Mujica took office in Montevideo. And we greeted each other with a hug", he added.

"At some point, the Argentine government turned the conflict into a national cause and that hindered the relationship, because we expected to solve the situation in another way. That was the most tense point in the bilateral relationship, but it ended in the best possible way. And the relationship with Cristina Fernández de Kirchner's administration was excellent as well", Vázquez said.

"We always talked about the pulp mill with Néstor Kirchner. Unfortunately we couldn't agree on the subject, despite the fact that we presented all the necessary documentation provided by international environmental organizations."

"I don't think that the bridge blockades were driven by the Argentine government. There were blockades, a Mercosur disposition was infringed. But I don't think there was a deliberate intention behind it, not even from those people who blocked the bridge. They did so because they considered that a great environmental damage would endanger their heath. But time went on and that did not happen," Vázquez said.

"President Mujica and President Fernández de Kirchner smoothed things over and the bilateral relationship is excellent," he concluded.