Royal 41-gun salute for the US President Obama at Buckingham Palace
Tuesday, May 24th 2011 - 19:29 UTC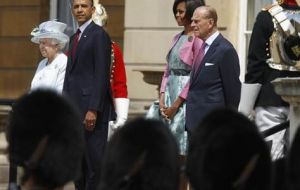 US President Barack Obama received a royal 41-gun salute at Buckingham Palace Tuesday to begin a two-day state visit aimed at ensuring the United States and Britain keep the "special" in their relationship.

The royal family, who just last month enthralled the world with a wedding for Prince William and Catherine, Duchess of Cambridge, gave Obama and his wife Michelle a taste of carefully choreographed pomp and pageantry.

Ceremonial cannon sounded 41 blasts as Queen Elizabeth, her husband Prince Philip, heir to the throne Prince Charles and Charles's wife Camilla, Duchess of Cornwall, escorted the Obamas onto the palace's west terrace for a formal arrival ceremony.

Obama is on the second stop of a four-nation European tour, arriving from Ireland late last night and planning to attend a Group of Eight summit in Deauville, France Thursday and end the week in Poland.

While the two governments have some differences over such issues as Libya, for example - where Obama is seen as less eager than Europeans to lead the battle - he and Prime Minister David Cameron stressed the unique status of US-British relations in an opinion article in the Times of London.

"Not just special, but an essential relationship," they wrote. "It's not only history that binds us. Whether fighting wars or rebuilding the economy, our needs and beliefs are the same."

Obama and Cameron are to announce the formation of a US-British national security council to work together on international challenges and share intelligence, an Obama administration official said.

Obama spent the day getting accustomed to Buckingham Palace and later lingered over a page from the personal journal of George III, dated sometime around 1783.

"America is lost!" the king wrote, going on to muse about the possibilities of trade with the Americans and the importance of "a future friendship and connection."

In an exchange of gifts, the Obamas gave the queen rare memorabilia of a visit by her parents King George VI and Queen Elizabeth to the United States in 1939. The royal family gave Obama letters between Queen Victoria and US Presidents.