After one year in office Colombia's Santos has a strong 71% approval rating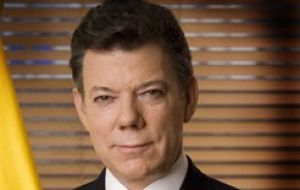 Close to his first year in office Colombian President Juan Manuel Santos has an approval rating of 71%, according to the findings of a public opinion poll released Sunday in the Bogotá media.

The poll by Ipsos Napoleon Franco was done between 22 and 25 July in 13 regions of the country including 1.004 interviews, over 18, with a margin of error plus/minus 3%.

Colombia for the last five decades has been plagued by organized Marxist inspired guerrillas whom lately turned into the drugs business. However under former President Alvaro Uribe and his then Minister of Defence, Juan Manuel Santos the tide has changed 180 degrees and the organized gangs of terrorists and drug cartels have been on the run.

Furthermore President Santos contrary to his predecessor has been very successful in mending fences with its neighbours and fully incorporating Colombian to regional organizations.

The poll which included questions on security, international affairs, the economy and employment shows 68% of Colombians are "satisfied" with President Santos followed by 28% non-satisfied and 4% who did not know or preferred not to reply.

Six out of ten Colombians supports the Santos administration in security affairs and 65% believes that the current government is involved in the issue with the same or even more dedication that his predecessor, Alvaro Uribe (2002/2010).

Overall 50% of interviews feel the country is on "the right track".

Regarding international relations and how the government addressed the recent emergency because of the prolonged rainy season, the approval rating was 75% and 63% respectively.

Another 70% believe President Santos is doing what is necessary to combat corruption. However for 45% of Colombian unemployment remains a top issue as well as lack of security.

Regarding the economy, 45% describe it as "bad", followed by 40% that think it is doing 'good'; 5% 'very good' and 10%, 'very bad'.

Home and Justice Secretary German Vargas Lleras has the highest level of acceptance for his performance with 55%, followed by Foreign Affairs minister Maria Angela Holguin, 50%; Defence minister Rodrigo Rivera, 43%; Finance, Juan Carlos Etcheverry, 37% and Transport, German Cardona, 28%.

Colombian Armed Forces count with an approval rating of 74% followed by the National Police, 69%, the Catholic Church, 67% and the media, 58%.

Former president Uribe remains with a 60% support, which has dropped from 76% last November.