Iconic Chilean student leader meets Brazilian president Dilma Rousseff
Friday, September 2nd 2011 - 03:32 UTC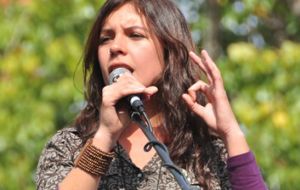 Before the planned meeting with Chilean President Sebastián Piñera next Saturday, Chilean student leader Camila Vallejo met with Brazilian President Dilma Rousseff in Brasília on Wednesday to discuss the problems facing the Brazilian and Chilean higher education systems.
Vallejo has become an icon of the student movement in Chile, acting as spokesperson for the Chilean Student Confederation, CONFECH.
While in Brazil, Vallejo also attended a student demonstration organized by the National Students Union (UNE) in an act of support for the struggle of Brazilian students.
The meeting with President Rousseff was not exclusive to Vallejo, however. The UNE also sent a delegation to meet with the president, and Vallejo was invited along. The UNE is demanding that interest rates on student loans be reduced and that the government double investment in education.
Closing out a month of protests in Brazil, the UNE led a march in Brasília that was attended by 3,000 people, according to El Mostrador. The rally—unlike most that have occurred in Chile in recent months —took place in a peaceful and festive manner, despite culminating outside the Brazilian Congress building in the capital. There were even some signs of support for Rousseff and other Brazilian leaders.
UNE president Daniel Iliescu—who was in Santiago last Thursday for the joint workers' strike and student "paro"—said he invited Vallejo to Brazil for the event because her presence is symbolic of the united South American desire for serious educational reform.
Vallejo's presence was widely publicized by Brazilian media. Brazilian newspaper Opera Mundi described her as a "major figure of the recent demonstrations for Chilean educational reform."
"Chile is a model for a lack of opportunity and education," Vallejo told local media, reiterating her unwavering stance that Chilean education should be one of quality and free of charge.
Vallejo was forecasted to attend a Commission on Human Rights session Thursday in the Brazilian House of Representatives, representing the struggle of Chilean students for education reform. She also has scheduled meetings with various officials of the Brazilian Congress.
By Zach Simon - The Santiago Times