Falklands and Punta Arenas work to establish closer agriculture technical links
Thursday, October 6th 2011 - 02:32 UTC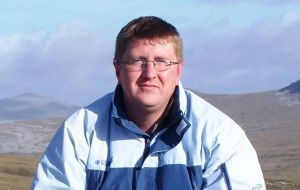 Representatives from the Falkland Islands Agriculture Department and private sector visited Punta Arenas in the extreme south of Chile to establish closer commercial, technical and academic links related to farming development.

According to Punta Arenas press, Andrew Pollard Senior Agriculture advisor and Tim Miller the main vegetables producer in the Islands were specially invited to meet academic and technical staff from the University of Magallanes Agriculture Engineering School.

At the meeting with the Dean of the Agriculture Engineering School Sergio Radic and the Chilean Agriculture ministry representative in Magallanes, Manuel Bitsch and with the head of the regional Agriculture and Livestock Services, SAG, Pollard and Miller discussed ways to exchange experiences and data on animal genetics and technologies for improving livestock quality as well as increasing commercial, academic and specific fields' links.

One of the issues which is most advanced is a program for University of Magallanes agriculture students to spend time working during summer vacation in Falklands livestock farms and in vegetable growing particularly hydroponics which has a long and successful experience in the Islands.

Another area to promote is the fluid exchange of data on cattle breeding since both in the Falklands and in Magallanes region the emphasis has been to improve livestock management based on sustainable production.

"This could involve in the near future the exchange of rams and ovine genetics to better the flocks", according to Chilean sources plus the possibility of having Punta Arenas handle Falklands' exports.

"Commercial relations with the Islands have a long history and when a ferry linked Punta Arenas with Port Stanley once a month there were large volumes of forestry and agriculture products exported to the Islands and we hope we can recover the flow of trade and exports" said Otzen, head of SAG.

"The meeting was most productive and allows us to undertake some kind of mutual benefit links, which has begun with the University of Magallanes initiative for exchange students to spend time in the Islands because we are interested in having access to their production systems since there are close similarities and conditions with our region", pointed out Bitsch the Chilean Agriculture Ministry representative in Magallanes.

He added that "in a near future we expect to travel to the Islands with staff from SAG and INIA (Agriculture research) to check on their production, livestock quality and the breeds they have such as Polwarth that they have introduced with the purpose of obtaining finer wools".

Tim Miller, who has been running Stanley Growers greenhouses for over two decades and supplies local groceries and cruise vessels with fresh vegetables, also gave a conference on hydroponics to agriculture students and local farmers invited for the event.