Friday,
November
4th
2011
- 16:03 UTC
Camp representative Bill Luxton steps down from Falklands' Legislative Assembly
The Governor of the Falkland Islands accepted Friday the resignation of Bill Luxton from the Falklands' elected Legislative Assembly (MLA). Bill Luxton was elected for the Camp constituency and is the third member of the current Legislative Assembly that steps down: Glen Ross and Emma Edwards are the other two.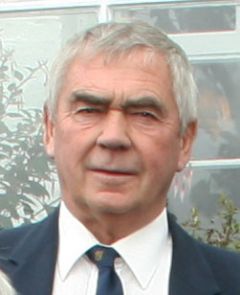 In a brief release from Government House in response to the resignation letter, Governor Haywood said he understood the reasons for the decision and that he appreciated the expertise that Bill had brought to bear on his portfolios, particularly on matters concerning rural development.
The Governor said he would miss Bill's wisdom and experience, describing Bill as an effective and persuasive voice. The Governor also said he would always appreciate all that Bill did to welcome him when the Governor first arrived in the Islands, and wished Bill the very best for the future.
"Bill has commented that he had resigned purely for personal reasons - his absences overseas had made it very difficult to balance his workload as an MLA and the other aspects of his life. He added that he had greatly enjoyed working with all colleagues in the Assembly and with the Governor and that he wished the Assembly well for the rest of its term".

Earlier in the day MLA Luxton, who has served many terms in the service of the Legislature, told Penguin News that he has informed his colleagues that he had come to the conclusion that the extra work load on them resulting from his prolonged absence "is really not fair and that even when I am here it is not satisfactory for me to be Chairing any of the important Committees on a part time basis."
MLA Luxton spends six months of each year at his home in the South of France.
He added, "I had hoped to be able to play a fuller part when I was in Europe but this did not seem to work out so I feel it will be better for me to make way for someone else. I was very surprised that I even got elected, as I suspect all or most of you were. I was very touched that so many of the Camp population put their faith in me - but I suspect that they, like me, will feel that it has not worked as well as I had hoped."
He said he tendered his resignation in the early hours of Friday morning: "I didn't want to drop it in the middle of the referendum, the result of which I was delighted with by the way."
MLA Luxton said he had enjoyed working with his colleagues: "I think we have tried to be open with the public even if people sometimes doubt this. We have had some robust discussions but almost always have reached a consensus. I was deeply sorry that we lost Glenn Ross because of his problems at the Power Station and I hope that one day he will return to the Assembly. He was an excellent MLA and his enquiring and open mind made him a superb choice as Chair of The Agricultural Committee. I enjoyed working with him on that committee enormously."
He added in a letter to his colleagues that he had also enjoyed working with MLA Dick Sawle, "with his quest to bring the monopolies that are the curse of the Falklands under control. I hope all of you and the new MLA will give him every support in this."
Earlier in the year in a by-election Mike Summers replaced Glen Ross and another ballot will take place mid December to fill the post left vacant by MLA Emma Edwards who anticipated she will be leaving the Falklands in mid 2012.