Do you agree Scotland should be an independent country? Yes, but…
Thursday, January 26th 2012 - 05:25 UTC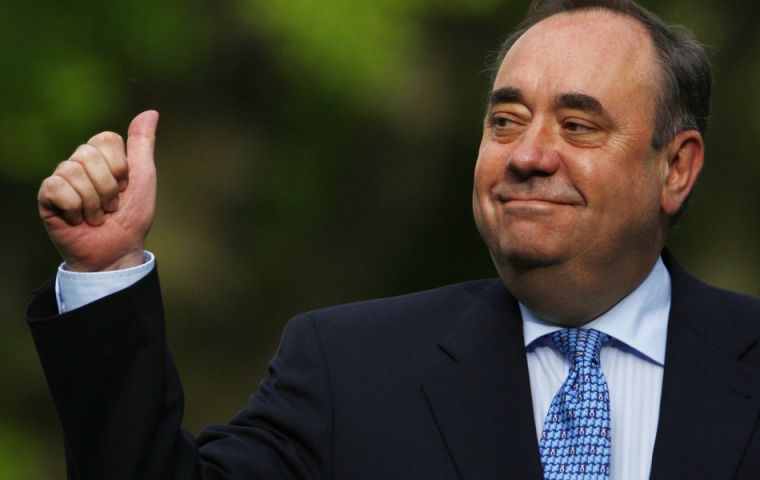 Scottish First Minister Alex Salmond said his planned referendum on independence will ask a simple question on whether the country should go it alone, though he didn't rule out a third option of more power within the UK

Voters in Scotland will be asked: "Do you agree that Scotland should be an independent country?" Salmond told the Scottish Parliament in Edinburgh on Wednesday as he put forward a consultation document for the vote. It will take place in the fall of 2014, Salmond told lawmakers.

"The next 2 1/2 years promise to be the most exciting in Scotland's modern history," Salmond, leader of the Scottish National Party, said on the day Scots commemorate the birth of their national poet, Robert Burns. "The people who live, work and bring up families in Scotland should make the decision on its future. Our success should be in our own hands."

Salmond fired the starting gun on the debate over who might get what from a break-up of the U.K. The SNP, which won an unprecedented majority in the semi-autonomous Edinburgh legislature last year, seeks to maximize revenue from North Sea oil and minimize how much debt Scotland must assume.

The opposition parties, including U.K. Prime Minister David Cameron's Conservatives, oppose independence. While Cameron also said he wanted a simple "yes or no" to independence, Salmond said previously there could be a third question on whether people in Scotland want more powers for Scotland.

A referendum on Scotland is clearly an issue for the people living in Scotland, said Cameron, who told lawmakers in London on Wednesday that the vote should be held sooner than Salmond has proposed.

Even so, what "everyone needs to understand is that options for further devolution, options for changes across the United Kingdom, are matters for all of the United Kingdom," the prime minister said before Salmond's announcement.

The UK government welcomed the fact that the SNP is proposing "a single, unequivocal question," Cameron's spokeswoman, Vickie Sheriff, told reporters after Salmond's statement.

"First of all we need to get the legal situation sorted so they can actually hold a referendum," Sheriff said. "We're consulting on the legal position and that comes first as far as we're concerned."

A currency union between Scotland and the rest of the U.K. would work because the two economies are aligned, without the tensions and strains caused by the euro that is trying to marry "the Ruhr Valley with the tip of southern Greece," Salmond told a news conference in Edinburgh.

Scotland would be a successor state within the European Union, not an accession state, Salmond said. An independent Scotland and the rest of the U.K. would be two entities with equal standing, he said.

"Multi-option referendums are generally not a good idea," Matt Qvortrup, a senior lecturer at Cranfield University and an adviser to Salmond, said in a telephone interview yesterday. "When it is irreversible, there has to be a clear result, a straight yes or no."

The inclusion of an additional question in the referendum, which will cost an estimated 10 million pounds and which will be overseen by the UK Electoral Commission, would be "fair and democratic" if there was an alternative that would "command wide support in Scotland," Salmond told lawmakers. The Scottish government is also looking at extending the vote to 16 and 17-year-olds, he said.