Keith Padgett interim Chief Executive of the Falkland Islands
Monday, January 30th 2012 - 15:35 UTC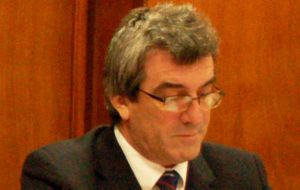 Last Friday it was announced that Keith Padgett, Financial Director for the Falkland Islands Government, has been appointed interim Chief Executive of the Islands until a replacement is appointed for outgoing CE, Tim Thorogood.
Keith Padgett is a well-known figure in the Islands, having been in the Islands since 2001 when he was appointed as Deputy Financial Secretary and has served as Financial Director since 2008. He has held the position of Acting CE once previously and he makes no secret that he is one of the applicants for the substantive post. Should he be selected he will the first locally recruited Chief Executive to the Islands.
In most situations filling an interim post is an opportunity for the incumbent to demonstrate the appropriate skills without the pressure of forging new developments or strategies. Having already demonstrated his abilities, however, and with his eye on the main chance, Padgett has different priorities. Most immediately he would like to push forward the Economic Development and Tourism strategies that have been 4 years in the making and represent long-term strategic approaches to economic development in the Islands. Additionally he has expressed his wish to remove some of the bureaucratic obstacles that seem to have mushroomed in recent years hindering progress and strategic thinking. For many in the Islands, this will be a welcome relief.
The post of Chief Executive to the Falklands Islands Government is a notoriously stressful one. Being responsible for the entire civil service and principle strategists for the development in the Islands requires tough decision-making skills combined with sensitivity to the Islands way-of-life, the ability to listen and acute political skills.
As in many small democracies, decision-making in the Falklands has an immediate and visible effect, which can lead to often contradictory vocal criticism and opinion from all sectors of the country. Padgett is well aware of the challenges of the post, the benefits and the drawbacks, but it could well be that his knowledge and familiarity in the Islands could be a bonus that previous CE's have not benefited from
The current CE, Tim Thorogood, is due to leave the Islands on the 10th February.
By Janet Robertson – SeAledPR - Stanley