Uruguay and US will attend Americas' summit: Cuba and Ecuador absent
Saturday, March 10th 2012 - 07:18 UTC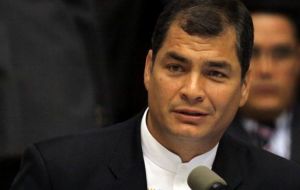 Uruguay's minister of Foreign Affairs Luis Almagro described on Friday as 'inadmissible" the exclusion of Cuba from the VI Summit of the Americas scheduled for next April 14/15 in Cartagena, Colombia.

"The exclusion of a hemispheric country from a summit which encompasses all countries of the region is inadmissible and we are going to bring it up at the summit when we have the opportunity", said Almagro speaking with reporters in Montevideo.

He added that Uruguay fully supports the Colombian efforts in the organization and attendance of the summit. Colombian president Juan Manuel Santos has just come back from a visit to Cuba where he met with President Raul Castro and Venezuelan leader Hugo Chavez who is recovering from cancer surgery and radiotherapy.

However the Ecuadorean president Rafael Correa announced he will not attend the summit because "it is outrageous that in the XXI century something that calls itself the Americas Summit does not invite Cuba".

He added that "if it is a summit of the Americas, all countries of America must be invited and attend".

Cuba will not be present at the event in Colombia because Washington considers that the island does not comply with the conditions to attend.

The summit is "reserved for democratic countries", active members of the Organization of American States, OAS, which expelled Cuba back in 1962, in the midst of the Cold War. However the decision was annulled in 2009 but Cuba did not accept returning to OAS.

President Barak Obama has confirmed he will be flying to Colombia for the event.

Cuban Foreign Affairs minister Bruno Rodriguez said that the exclusion of Cuba imposed by the US "is a crime and a major mistake with over half a century".

He added Cuba did not ask to be invited or be part of the Americas' summit and would only attend if invited on equal conditions and standing.

Cuban president Raul Castro has said that Cuba would attend if invited but is not interested in returning to OAS.

OAS Secretary General Jose Miguel Insulza speaking from Washington said he would like to see Cuba rejoin OAS, but asks why Havana is not interested in returning to the organization.

The first summit of the Americas was held in Miami in 1994 with the attendance of leaders from the 34 countries that make up OAS. Cuba has not participated in any of the five summits so far.

Insulza recalled that he worked strongly from OAS three years ago to have sanctions on Cuba lifted.

"Cuba has also been invited to a dialogue with the rest of OAS members on democracy, human rights and reincorporation" said Insulza but "Cuba is not available and that is as far as we could advance".

"It's strange that Cuba is interested in attending a political meeting with 34 countries and not in the reincorporation to OAS", added Insulza.

OAS Secretary General admitted that three countries belonging to ALBA, Bolivarian Alliance, among which Venezuela, Bolivia and Ecuador are not expected to attend the summit in Colombia.