Monday,
April
9th
2012
- 06:20 UTC
Argentine government in full force support Vice-president accused of embezzlement
The Argentine government came out in full force over the weekend to back Vice-President Amado Boudou after he was accused of embezzlement in what become known as the "Ciccone Case".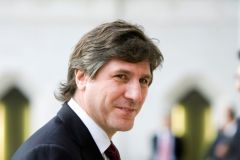 Boudou defended himself from the allegations and denounced what he called an "attack" against the "popular" will and institutions during a press conference last week held at the Senate.
Investigators raided an apartment owned by Vice President Amado Boudou on last Wednesday as part of a court probe into possible influence peddling by the country's second-in-command. The investigation centres on whether Boudou helped printing company Ciccone Calcografica get out of bankruptcy in 2010 and later steered a contract to its new owners to print money.
Government officials and party colleagues voiced their support for the nation second in command. Cabinet chief Juan Manuel Abal Medina said "he was never going to give in control to businesses corporations and media groups," as he stressed his support for Boudou.
Victory Front Senator Aníbal Fernández twitted the "media operation against Boudou was shameful," and urged the Vice-President to "resist".
During an interview to the official news agency Telam, the head of Victory Front's bloc in the Lower House Agustín Rossi also expressed his support for the Vice-President. "He is the victim of corporate attack which objective is to delegitimize last October's popular vote," he said.
Lower House president Julián Domínguez stressed the accusations were an assault against democracy itself. "Throughout history the strategy of those who won't accept the popular choices is to disqualify those chosen by the people's vote in order to throw the administration and actions into a crisis," Dominguéz said.
Buenos Aires Vice-governor Gabriel Mariotto also stepped into the spotlight to defend Boudou. He said the media charges were "an operation carried out by hegemonic groups."
Boudou served as Argentina's Economy minister for more than two years before he took office as vice president in December. He has denied any link to the printing company, which now operates under the name Compania de Valores Sudamericana (CVS)
Last week during the press conference following which he took no questions, Boudou said he's a victim of a misguided judicial investigation and slanted news coverage after authorities raided an apartment he owns.
Boudou called the magistrate in the case Judge Daniel Rafecasa "vaudeville" judge and said the raid ordered by the judge at the request of prosecutors was "judicial trash."
The Vice-president also criticized the Argentine media conglomerate Grupo Clarin and the newspaper La Nacion for their coverage of the case, accusing them of behaving like anti-government mafias. Both news organizations have often clashed with President Cristina Fernandez's government.
"Clarin attacks institutions in an illegal way," Boudou said. He complained that judicial authorities have been releasing details of the investigation. "The courts in Argentina are news agencies for the most powerful media organizations," he said.
Boudou said that despite "attacks against the government ... we will keep busy with Argentina's real issues."
Opposition politicians criticized the vice president for defending himself by attacking the authorities who are investigating. Some members also publicly asked Boudou to take a "leave of absence" and "step aside" while the investigation is ongoing.