YPF nationalization bill does not contemplate compensations, says Kirchnerite Senator
Tuesday, April 24th 2012 - 03:57 UTC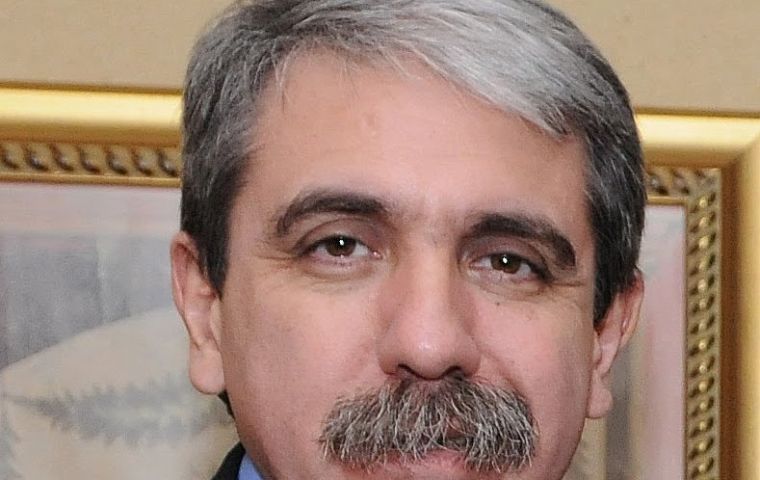 Senator from the Argentine ruling majority and former cabinet chief, Aníbal Fernández assured that the government "will pay the real price for the expropriation of YPF and not what Repsol's chairman (Antonio Brufau) wants."

Fernández went further and accused Brufau of being "the main responsible for the stripping of assets from the company".

The former cabinet chief also explained that the compensation plan is not contemplated in the expropriation draft bill that will be debated this Wednesday at the Senate since the company's valuation "will be conducted by the technical staff of Argentina's Valuation Court."

"No matter how hard they try to demonstrate the alleged investments (Repsol) made, they've done none. The exploration was null as well, while the oil and gas production dropped significantly. We lost oil and gas reserves, the company duplicated its debt while the share dividends paid were outrageous", said Senator Fernandez.

Finally he argued that "neither Spain nor the European Union should take reprisals against Argentina, and/or question Argentina's legal security without noting that the possibility of expropriating a company is contemplated in the National Constitution, and as a matter of fact it's also included in the Spanish Constitution".

YPF expropriation bill which President Fernández de Kirchner sent to Congress last week is expected to finally be voted (and passed by a wide margin) by the Lower House on May 3.

The Lower House is scheduled to begin the debate right after the Senate votes on the bill next Wednesday. The bill is expected to be preliminary approved by a wide margin.

No Argentine cabinet members are expected to be present during the Lower House, unlike last week during the debate in the Senate when Federal Planning Minister Julio De Vido and Deputy Economy Minister Axel Kicillof where both present on the floor.

Kirchnerite sources in the Lower House confirmed that lawmakers will begin debating the bill next Thursday in a plenary meeting including several congressional committees.

The market value of YPF has plummeted to below 10 billion dollars from 18 billion a few months ago before the dispute and seizure of the company from Repsol by the Argentine government.

Senator Fernandez and Deputy Minister Kicillof have said publicly on more than one occasion that to whatever compensation is decided, must be subtracted the lack of upkeep and maintenance by Repsol as well as "environmental damage".

Kicillof has stated that according to Repsol's books the Spanish company was no longer interested in Argentina and was investing all its resources and efforts in other countries to the detriment of Argentina.