Thursday,
April
26th
2012
- 01:23 UTC
YPF dispute has meant a "disruption of trust" between the EU and Mercosur
European Commission Deputy Director General for Enterprise and Industry Daniel Calleja warned on Wednesday that Europe has lost its trust in Mercosur trade block after the government announced it would expropriate 51% of YPF shares, owned by Spanish oil company Repsol.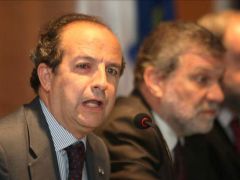 On arrival to Uruguay for a seminar on business opportunities, Calleja pointed out the European Commission has always been open to negotiate with Mercosur (including Brazil, Uruguay, Paraguay and Argentina) but following the latest events "there has been an obvious disruption of trust."
He also reminded the European Union is "the world's top commercial power" and ratified the block's disposition to "defend an environment of international law security, stability and predictability for investments".
Calleja is in Montevideo heading a delegation of European business people to participate in the seminar "Business opportunities in Uruguay" organized by the Uruguayan ministries of Foreign Affairs, Industry, Energy and Mining, and the Chamber of Industries.
The top official recalled that the European Commission and European Parliament among others strongly condemned the seizure of 51% of YPF shares from Spain's Repsol, and expressed solidarity with the Spanish company, which is "a significant European investor" in the region.
"Hopefully a solution can be found for the issue through dialogue, but at this state no option can be discarded", added Calleja.
The EC top official arrived in Uruguay precisely when the Argentine Senate is discussing the bill sent by President Cristina Fernandez nationalizing 51% of Repsol's majority stake in YPF. Repsol holds (held) 57.43% of the Argentine company.
The bill was sent to Congress last April 16 and has the support from the ruling coalition and opposition parties, and also contemplates the seizure of Repsol's shares in YPF-Gas, which is Argentina's main retail distributor of liquid gas for home consumption.