Brazil ready to boost trade with Argentina but demands "compromise" on lowering barriers
Wednesday, May 9th 2012 - 08:15 UTC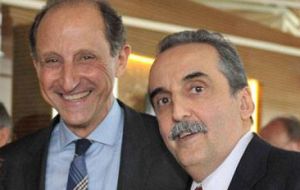 The potential to treble imports from Argentina in a few years was underlined by Brazilian manufacturers but there must be a "compromise of reciprocity" to lower trade barriers since currently "we known they are higher on the Argentine side".

The statement belongs to Paulo Skaf the president of the influential Sao Paulo Federation of Industries, FIESP, in the framework of the visit of a delegation of small and medium sized companies to Sao Paulo, headed by Argentine Secretary of Domestic Trade, Guillermo Moreno.

"The course of action is not to spend efforts in creating new obstacles from one side and the other, but rather how to eliminate them and increase bilateral trade, Brazil selling more and buying more from Argentina trying to reach an equilibrium in the trade balance", added Skaf who last February during a visit to Buenos Aires organized the current round.

The meeting held at the offices of FIESP in Sao Paulo convened representatives from 330 Argentine companies, plus Secretary Moreno and 270 managers from Brazilian manufacturers. The visiting delegation also included Beatriz Paglieri head of External Trade; head of International Economic relations, Cecilia Nahon and Deputy Secretaries Carlos Bianco and Agustina Vila.

Skaf held a private meeting with Moreno, who is considered the executioner of the restrictions on imports to Argentina and regulator of the foreign exchange market. "I politely informed him of out great concern, almost disappointment with the barriers to Brazilian goods in Argentina"

"There is a group of Brazilian companies willing to travel to Buenos Aires to make big investment announcements taking advantage of the potential expansion of 6 billion dollars in bilateral trade, but we need a reciprocity compromise", added Skaf.

The meeting in Sao Paulo was considered necessary because bilateral trade has dropped significantly since the new set of measures to slow imports implemented by Argentina, but also following a year in which the trade surplus was overwhelming for Brazil.

Last February the government of President Cristina Fernandez launched a system which demands sworn statements before imports are considered by Moreno and his team, which can reject with no excuses the request. Besides Argentina is promoting an imports substitution policy to boost manufacturing and ensure jobs and a positive trade balance.

Brazilian exports to Argentina plunged 23% in April, because of the new set of restrictions. Argentina is Brazil's third commercial partner behind China and the US. In 2011 bilateral trade reached 39.6bn dollars with a surplus favourable for Brazil of 5.8 billion dollars.