Monday,
June
11th
2012
- 03:28 UTC
Argentina claims Falklands and slams UK for 'illegal exploitation of natural resources'
Ahead of a week of intense diplomatic exchanges and on the Day of the Affirmation of the Argentine Rights Over the Malvinas, Islands and Antarctic Sector, the Argentine Government once again ratified its claim over the Islands' sovereignty and questioned the UK over the "illegal exploitation of their natural resources" and the "increased militarization of the South Atlantic region."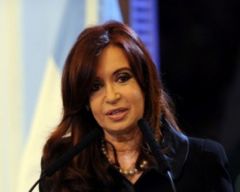 In a press release the Foreign Ministry recalls the date in 1829 when the interim government from the Province of Buenos Aires under Brigadier General Martin Rodriguez signed the decree creating the "Political and Military Command of the Malvinas Islands and adjoining islands to Cape Horn and the Atlantic Sea"
It then insists that since the emergence of the Argentine Republic as an independent nation, it never dropped its sovereignty claims over austral territories and adjoining maritime spaces not did it permit any power, continental or extra-continental from exercising acts of jurisdiction over those territories and spaces"
The press release adds that "the Argentine sovereignty on the Malvinas Islands and their dependencies was interrupted by a belligerent act carried out by British forces on January 3rd, 1833."
On that day "local authorities and the Argentine population were expelled from the Malvinas, while being replaced by British subjects", and "today the Argentine Government and population calmly and firmly insist on the inalienable right they have on this matter".
"Despite Argentina's permanent will to negotiate, the United Kingdom continues to ignore the international community's calls" to engage in dialogue, the press release adds enumerating a long list of organizations such as the UN, OAS, Ibero-American summits, UNASUR, Mercosur, Celac plus the summits of South American countries with their counterparts from Arab and African countries.
"Not only they (UK) maintain a colonial situation, but they insist on an endless amount of illegal acts through the illicit exploitation of Argentine renewable and non renewable natural resources, as it consolidates an increasing militarization in the South Atlantic that is offensive to the entire region," it concludes.
Later this week a delegation from the Falkland Islands, two members from the elected Legislative Assembly and two young professional Islanders will be making their case before the UN Decolonization Committee of C24, while Argentina will be represented by none else than President Cristina Fernandez.
This will be the firs time a head of state makes a presentation before the several decades old C24.
The members of the Special Committee are Antigua and Barbuda, Bolivia, Chile, China, Republic of Congo, Côte d'Ivoire, Cuba, Dominica, Ecuador, Ethiopia, Fiji, Grenada, India, Indonesia, Iran, Iraq, Mali, Nicaragua, Papua New Guinea, Russian Federation, Saint Kitts and Nevis, Saint Lucia, Saint Vincent and the Grenadines, Sierra Leone, Syria, Timor-Leste, Tunisia, United Republic of Tanzania and Venezuela.
The C24 is chaired by Ecuadorean ambassador Diego Morejon-Pazmiño and Syria's Bashar Jaafari will be acting as rapporteur.