Frozen fuel prices make it difficult for Petrobras to engage in ambitious development program
Monday, June 18th 2012 - 03:18 UTC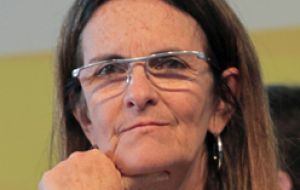 Brazil's state-led oil company Petrobras is likely to struggle to find the cash to pay the recently announced world's largest corporate investment program. The country needs money to pay hundreds of ships and dozens of oil fields, drill-rigs and platforms it wants in order to catapult Brazil into the ranks of the world's top-four oil producers by 2020.

Petrobras made the world's largest corporate investment program even bigger, committing 236.5 billion dollars by the end of 2016. That's nearly 130 million dollars a day for five years, and 11bn more than its 2011-2015 plan.

Without raising fuel prices, something Petrobras' controlling shareholder, the Brazilian government, hasn't allowed it to do since 2008, the plan is a fiction, said Lucas Brendler, oil industry analyst with Geração Futura, which manages 3 billion dollars of stocks and bonds in Porto Alegre, Brazil.

Petrobras which two years ago was one of Geração Futura's biggest holdings, now only makes up about 5% of its portfolio. Worse still, the plan's cuts in output targets, the first in the company's history, are likely to be bigger in coming years.

"Without a price hike the company's accounts just don't add up; they don't even come close," Brendler said. "If they don't get the fuel price rise, the outlook for the company and its share price is going to shrink even more".

Investors appear to agree. Petrobras preferred shares, the company's most-traded class of stock, fell for a second day on Fridayon track for its lowest close in eight months.

A fuel price increase is unlikely, at least this year, said Luciano Rostagno, economist and chief strategist at the Sao Paulo unit of German bank West LB. Plus the fact the government is facing municipal elections later this year.

Transportation prices, which are closely linked to vehicle fuels, weigh heavily on Brazil's consumer price index. President Dilma Rousseff is dead set against anything that might spark inflation or slow growth, especially in the face of the European debt crisis and potential global slowdown.

"With the economy facing trouble, the currency weak, oil prices down and government efforts focused on lowering interest rates, a fuel price hike is almost unthinkable," Rostagno said.

Even Petrobras' chief executive, Maria das Gracas Foster, agrees a fuel price increase is necessary. Last week she told reporters in Rio de Janeiro that the price of fuels needed to rise in order to make the investments it has announced.

But her calls may be in vain, at least this year. Brazilian energy minister Edson Lobão said a decline in benchmark crude prices means there is no chance of a fuel price increase this year.

While Petrobras is controlled by Brazil's government, most of its stock is owned by non-government investors.

The fuel price freeze is one of the reasons Petrobras stock is worth less today than when it began announcing giant offshore oil discoveries in October 2007. The discoveries among the world's largest in decades are expected to more than double Petrobras reserves to more than 30 billion barrels by 2015.

Even with recent declines in the price of Brent crude oil - it hit its highest in nearly five years, 128.40 dollars a barrel, on March 1 - Petrobras' wholesale, refinery-gate fuel price is 20 to 25% below levels needed to stop refining losses, Brendler said.

The government has not ruled out any price increases ever. Petrobras in the past made up for losses when prices rose by not lowering fuel prices when crude fell. Lobão suggested earlier this year that oil somewhere above 130 dollars a barrel might force a fuel price rise.