Tuesday,
June
26th
2012
- 09:37 UTC
HMS Protector sailor/airman wins prestigious photography competition
A crewman aboard the British Royal Navy's Antarctic patrol ship, HMS Protector, has won a prestigious military photographic competition, the Peregrine Trophy.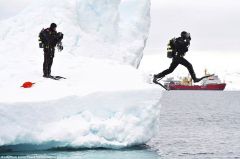 Leading Airman (Phot) Arron Hoare captured dramatic images of Antarctica's white wilderness, including sailors operating from the Navy's only ice-reinforced ship. Hoare's portfolio secured the 50-year-old trophy for HMS Protector in her first year operating from her southern summer base in the Falkland Islands.
The Navy said that the winning portfolio, "captured the experiences of the ship's company as they served in a ship at the other end of the world. As well as assisting UK research and exploration in the Antarctic, HMS Protector and her ship's company act as a floating embassy as they travel to and from the UK."

ByGraham Bound - London